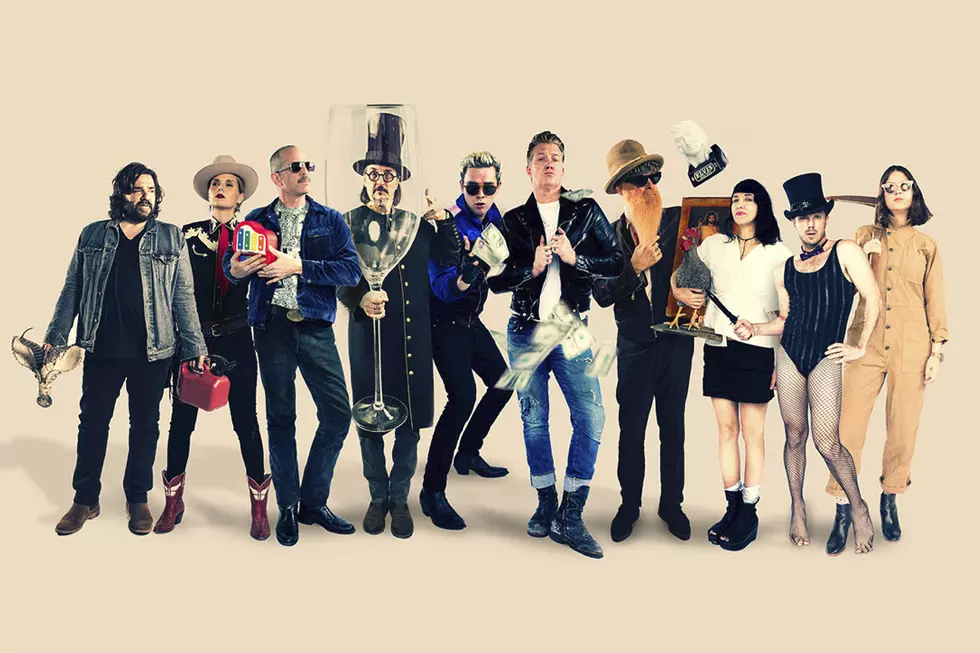 Royal Blood's Mike Kerr Leads Catchy New 'Desert Sessions' Song 'Crucifire'
Andreas Neumann
If you're feet aren't tapping a little for the new Desert Sessions song, we might have to check for a pulse. Josh Homme's merry band of fellow musicians have graced us with a catchy little tune called "Crucifire" and delivered an eye-catching new video to accompany it just as Desert Sessions Volumes 11 and 12 arrive for your purchase.
Homme revived the Desert Sessions series, which brings a select group of musicians together to enjoy the collaborative experience. The latest session took place in December 2018 at Homme Rancho De La Luna studios in Joshua Tree, California, with an eclectic group of guests.
"Crucifire" is getting the featured treatment at the moment, with Royal Blood's Mike Kerr taking the lead on vocals, while joined by Scissor Sisters' Jake Shears with the backing "fire" bits. Other performers on the song include Chavez's Matt Sweeney joining Homme on guitar and Autolux's Carla Azar adding drums and synth lines.
Meanwhile, director Anthony Francisco Schepperd has provided an animated clip featuring a defiant female being breaking free of her "monitored" norm. Take a closer look in the player below.
Desert Sessions Vol. 11 & 12, alternately titled Arrivederci Despair and Tightwads & Nitwits & Critics & Heels, are currently available here.
Other guests on the collection include ZZ Top's Billy Gibbons, Warpaint's Stella Mozgawa, Primus' Les Claypool, What We Do in the Shadows actor Matt Berry, as well as Libby Grace and Töôrnst Hülpft.
Desert Sessions, "Crucifire'
Queens of the Stone Age Albums Ranked