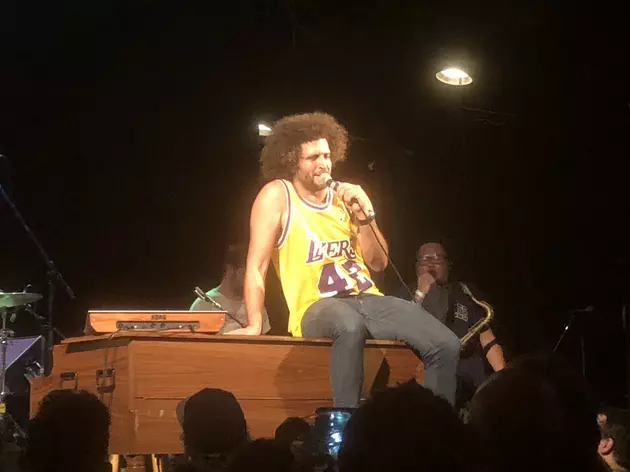 The Best Live Band I've Ever Seen is in Missoula This Weekend
Mike Smith
Let me take you all the way back to June 2018. I was still in New York, and I was attending a three-day festival known as Mountain Jam, with some pretty major performers like Portugal. The Man, Sturgill Simpson, Alt-J, Jack Johnson, Jenny Lewis, George Clinton and the Parliament Funkadelic, and a whole lot more.
On Saturday, we got in and went to go see Alice Merton on the main stage. But... we got the time wrong - she wasn't coming on for like another two hours. Instead, we got to see Andy Frasco and the UN. It was clear that nobody knew who they were, but by the end of their set, they had won themselves literally thousands of new fans.
That's because Andy Frasco and the UN put on one of the most energetic live shows I've ever seen. Over the course of one hour, I saw them down a bottle of Jameson, hold an impromptu bar mitzvah, have a jam battle with another band at the fest, and literally climb the rafters of the stage while wearing a gigantic tuba.
In August, I saw them again, and they were even better. They played for 3+ hours, and maybe even had MORE energy, if that were even possible. These guys are the real deal, and it helps that the music is pretty great, too.
And guess what? They're in Missoula this weekend! They're playing The Top Hat on Sunday, October 14th, opening for Pigeons Playing Ping Pong. Anybody who considers themselves a live music fan has got to check this out. Tickets are $15 and are available at logjampresents.com.