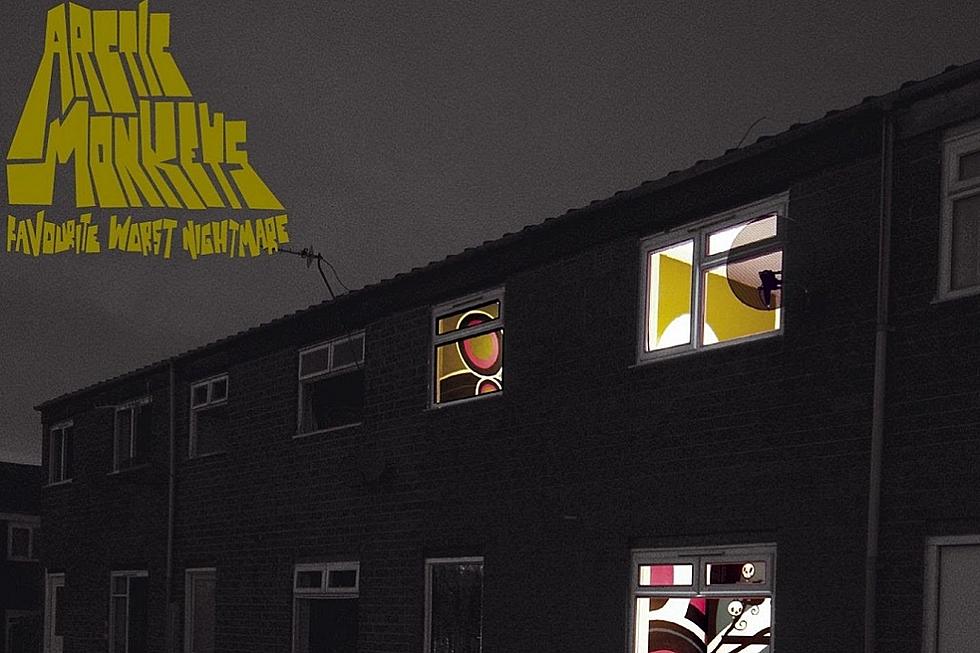 10 Years Ago: Arctic Monkeys Skip Sophomore Slump with 'Favourite Worst Nightmare'
Domino
It wasn't a method to avoid the pressure, although there certainly was plenty of that, given that the first record had become the fastest-selling debut in the history of Britain, a big hit in the U.S. and won the 2006 Mercury Prize. Just a week after finishing their tour, Arctic Monkeys rushed to record a new disc because frontman Alex Turner had the songs to do it, and the band members (including drummer Matt Helders, lead guitarist Jamie Cook and bassist Nick O'Malley, who had replaced founder Andy Nicholson earlier in the year) wanted to capture their frenetic live sound.
"We tried not to dwell on [pressure] – I was more excited about having new songs, it was just exciting to get a chance to move on a bit from the last record," Turner told Uncut in 2007. "Even though the campaign wasn't as long as it could have been – we'd been playing those songs a long while, so we definitely felt like the time had come to move on. So I don't think it was ever, 'Oh f---ing hell, we've got to make another record'."
The boys – and they were just boys, being all of 20 or 21 at the time – entered the studio with producers James Ford and Mike Crossey, whom they'd wanted to work with on the debut, but lacked the clout to insist. This time, they got their way, working with the duo to not only intensify the Monkeys' sound, but broaden it. The record would include tracks as rampaging as the drum-driven "Brianstorm" to the sparse, reverb-drenched "Only Ones Who Know."
"We paid a lot of attention to drums… we tried to do interesting rhythms and not just straight-forward structures and stuff," Turner said in a 2007 television interview. "I think it's probably more like the extremes [of the band]. The heavier stuff went heavier, but there's, like, softer moments on this record, I think, like more stripped-down than anything on the first. So it's just gone, like, wider."
The singer-guitarist said that the songs on what would become Favourite Worst Nightmare (named for a lyric within "D Is for Dangerous") were less specific than those on Whatever People Say I Am, which often referred to specific incidents in Turner's teenage days. But Favourite still reflects the frontman's life, just the version of it that was being lived in music venues as a famous young man. "Fluorescent Adolescent" deals with the aging ladies at the club while "If You Were There, Beware," focuses on people connected to the Monkeys getting hounded by the press for gossip about the band.
"I don't think we got it that bad really," Turner said. "We were never on the front page, but the only thing that was bad about it was when they were ringing up our friends, and trying to get 'goss' out of us mates, and that was a bit much. And my ex-girlfriend got a bit of hassle."
Recorded quickly in December 2006, Favourite Worst Nightmare was ready for release by the spring, debuting first in Japan on April 18, 2007, and soon followed by releases in Europe and North America. It debuted at No. 1 in the U.K., where "Fluorescent Adolescent" and "Brianstorm" became Top Five singles as the album went platinum three times over. It made far less of an impact in the States, although reviews on both sides of the Atlantic were glowing, focusing on Turner's songwriting excellence and Helders' drumming).
As time wore on, Turner viewed Favourite Worst Nightmare less positively. The singer and songwriter felt the Monkeys' second album had been made in too much of a flurry, that it was too tied to identity of the band's debut.
"It's fine, just not that considered," he told the Guardian in 2011. "After that, we all thought we needed to move on. … If only to prove that it weren't all about those 12 songs about the chip shop."