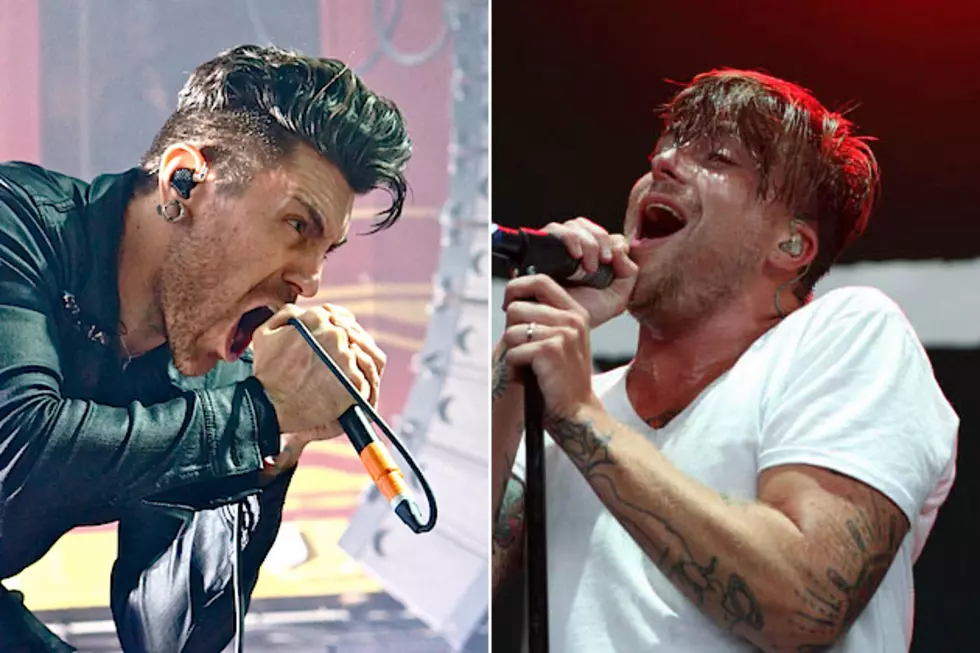 AFI + Circa Survive Announce Co-Headlining Summer Tour
Spencer Kaufman, Loudwire / Mary Ouellette, SheWillShootYou.com
There's no letting up from AFI as they feverishly support their latest release, AFI (The Blood Album). With one North American tour already completed and another run slated for June, they're looking even further on the horizon and have just booked a co-headlining tour with Circa Survive.
The two week jaunt will kick off in Atlanta, Ga. on July 18 with a heavy focus on the Midwest before venturing westward with a pair of California dates, ultimately finishing things off in Seattle on Aug. 5. One date, July 22, will not feature Circa Survive, who are still touring on the back of 2014's Descensus. See the full list of stops below.
When we spoke with guitarist Jade Puget earlier this year, he discussed the challenges of creating a set list. "I make the set lists, so it's a very – the more records you put out obviously the more involved the process is because now we have ten records and a handful of EPs to chose 18 songs to play in one night. It's very difficult. I have to please the other guys in the band and I have to try and please the fans who will be there."
Continuing, he said, "It's kind of a balancing act. As far as this new record goes, it's always a thing with a new record where you feel – you record a song and you're like – oh this song live is gonna be so great. Then you get out there and it doesn't connect the way you thought it would. But then another one which you didn't even plan on playing live, that ends up being a really great live track. So it's kind of a trial and error process."
AFI + Circa Survive 2017 Tour Dates
7/18 — Atlanta, Ga. @ Tabernacle
7/19 — Nashville, Tenn. @ War Memorial Auditorium
7/21 — St. Louis, Mo. @ Pageant
7/22 — Kansas City, Mo. @ Arvest Bank Theatre @ The Midland*
7/24 — Oklahoma, Okla. @ Diamond Ballroom
7/25 — Papillion, Neb. @ Sumtur Amphitheater
7/27 — Morrison, Colo. @ Red Rocks Amphitheatre
7/29 — Las Vegas, Nev. @ Brooklyn Bowl
8/01 — San Diego, Calif. @ Car Coast Credit Union Open Air Theatre
8/02 — Paso Robles, Calif. @ Vina Robles Amphitheatre
8/04 — Troutdale, Ore. @ Edgefield
8/05 — Seattle, Wash. @ The Paramount Theatre
* no Circa Survive
Previously Announced AFI 2017 Tour Dates
5/05 — London, U.K. @ Alexandra Palace w/ Deftones
5/06 — Manchester, U.K. @ O2 Apollo w/Deftones
5/07 — Glasgow, U.K. @ SECC w/Deftones
6/02 — Richmond, Va. @ The National
6/03 — Pittsburgh, Pa. @ The Stage AE
6/02-04 — Cincinnati, Ohio @ Bunbury Music Festival***
6/06 — Norfolk, Va. @ The Norva
6/07 — Hartford, Ct. @ Webster Theater
6/10 — Derby, U.K. @ Download Festival
6/15-18 — Dover, Del. @ Firefly Music Festival***
6/17 — Providence, R.I. @ Lupos Heartbreak Hotel
6/18 — Sayreville, N.J. @ Starland Ballroom
6/20 — Cleveland, Ohio @ House of Blues
6/21 — Portland, Maine @ Aura
6/22-25 — Montebello, Quebec @ Amnesia Rockfest***
*** check festival website for date of band's appearance
Where Do AFI Rank Among the Top 50 Hard Rock + Metal Live Acts of All Time?
AFI's Davey Havok Plays 'Wikipedia: Fact or Fiction?'