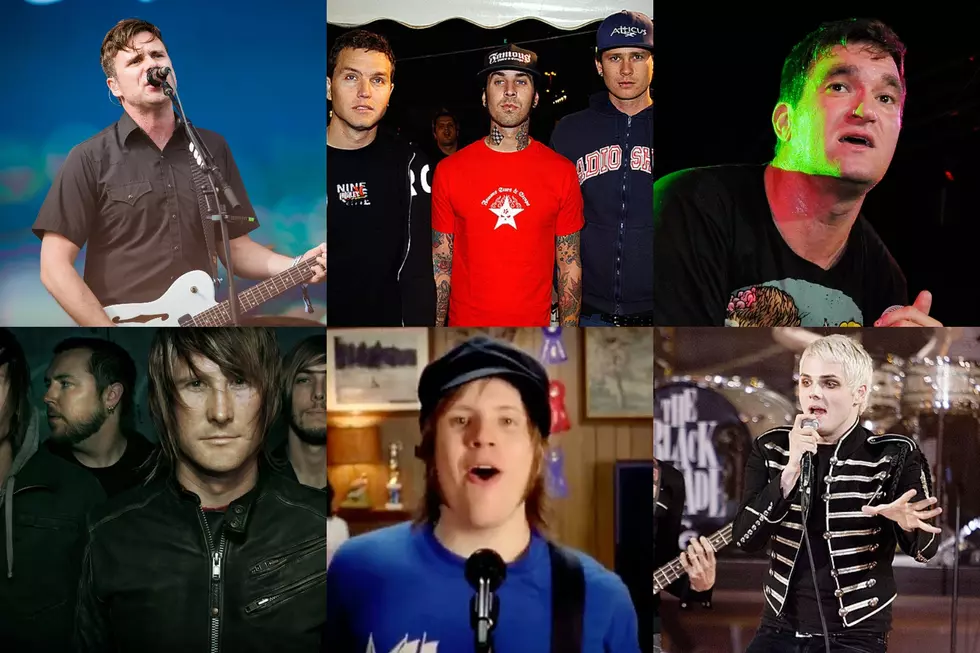 12 of the Best Scene Christmas Songs
Mauricio Santana, Getty; Anthony Harvey, Getty; Ethan Miller, Getty; MPR Press; YouTube: Fall Out Boy; Jeff Fusco, Getty
When it comes to scene Christmas songs, there are definitely some shocking efforts out there, but even though our world might not be best-known for its festive spirit, there remain some emo gems that are perfect for the holidays.
From big hitters and unknowns alike, these are the best Christmas tracks the scene has to offer…
My Chemical Romance – "All I Want For Christmas is You"

MCR's cover of the Mariah Carey classic features on Warner Records' Gift Wrapped compilation, which includes artists as diverse as Never Shout Never, Foxy Shazam and Michael Bublé. A special mention too to My Chem's Christmas track "Every Snowflake is Different (Just Like You)," which the emo legends wrote and performed for children's TV show Yo Gabba Gabba!.

Evidently, Gerard Way has a penchant for festive songwriting. As well as trying his hand at Christmas songs with My Chemical Romance, Way has penned a holiday-themed solo track, "Dasher," which tells the story of a girl who falls in love with a reindeer. The Regrettes' Lydia Night lends vocals to this one.

New Found Glory – "Nothing For Christmas"

Fearless Records' Punk Goes Christmas record is, truthfully, full of a lot of very ropey attempts at Christmas scene songs, but New Found Glory's effort really stands out. "Nothing For Christmas" is a simple and sweet festive-themed love song, and one that wouldn't sound out of place on any holiday playlist.

Fall Out Boy – "Yule Shoot Your Eye Out"

Heartbreak, suburban humdrum… "Yule Shoot Your Eye Out" is very much an anti-Christmas anthem for angsty emo kids. Fall Out Boy have done a lot of growing up since releasing this one, however, with Pete Wentz telling Noisey in 2018 that the track was "a bit overdramatic."

blink-182 – "Happy Holidays, You Bastard"

Part of blink's classic LP Take Off Your Pants and Jacket, "Happy Holidays, You Bastard" shows the pop-punk trio in all their juvenile, piss-taking glory. The festive "Boxing Day," taken from underrated blink EP Dogs Eating Dogs, is also worth checking out if you're a fan of the pop-punk kings.

All Time Low – "Merry Christmas, Kiss My Ass"

A bonus track from the Dirty Work era, "Merry Christmas, Kiss My Ass" is a delightful sugar-rush of typical ATL tomfoolery. The title of this track is a nod to the festive movie National Lampoon's Christmas Vacation, with the song sampling a snippet from the film at its climax.

Kids in Glass Houses – "Secret Santa"

"Secret Santa" is one of the scene's most underrated Christmas tracks. Performed by the now defunct U.K. rockers Kids in Glass Houses, it's 3 minutes of festive fun that talks of gift giving and getting so drunk that you fall into the Christmas tree. Classic.

LostAlone – "I Want Christmas Always"

Another song that's flown largely under the radar when it comes to scene Christmas efforts is LostAlone's "I Want Christmas Always." This ripper from the My Chemical Romance-approved rockers dropped in 2014 and is a sheer delight. The band have now split, but their excellent album Shape of Screams is worth a listen if you dig this song.

Creeper – "Same Time Next Year"

This enjoyable cut from U.K. goth-punks Creeper featured on the band's 2017 Christmas EP alongside covers of the Pogues' "Fairytale of New York" and Elvis Presley's "Blue Christmas." Packed with "woah-ohs" and plenty of emotion, this is a fine track from a band who continue to excel.

Jimmy Eat World – "Christmas Card"

A typically raw effort from the emo favorites, this festive-ish demo derives from the Clarity era of the band, although it's fair to say it's one that doesn't provoke much holiday cheer.

The Maine – "Ho Ho Hopefully"

This is characteristically strong songwriting from the Maine. The first track on the EP … And a Happy New Year, this song features a cameo from members of the Texas rock band Eisley.

Anberlin – "Christmas, Baby Please Come Home"

Taken from Anberlin's Lost Songs compilation record, this cover of the Phil Spector-written, Darlene Love-performed classic is a whole load of fun. An anthemic, amped-up take on the original, here Anberlin get their festive groove on to great effect.