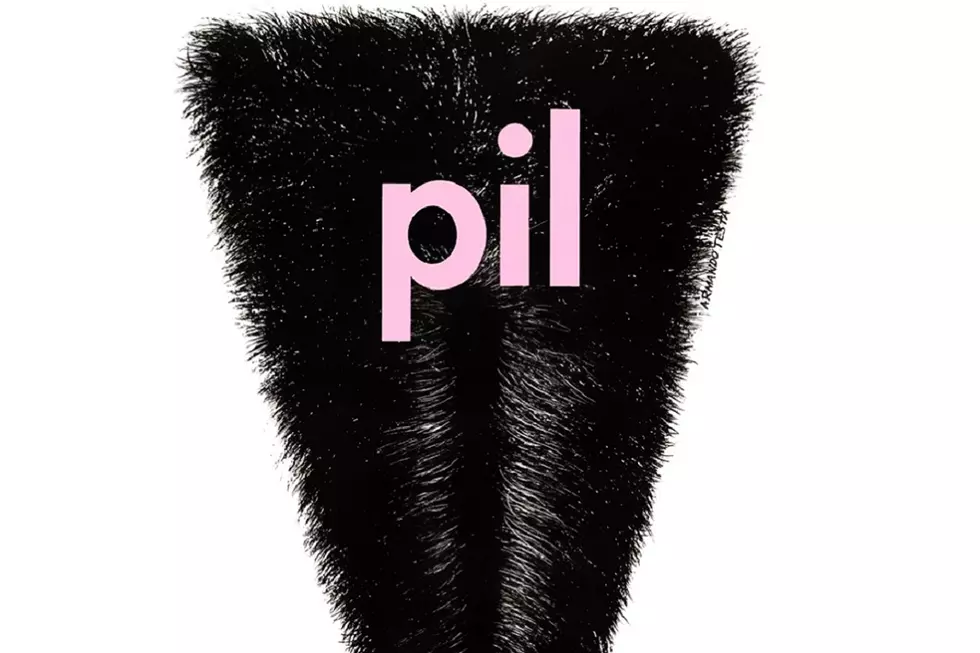 25 Years Ago: 'That What Is Not' Ends Public Image Ltd.'s First Run
Virgin
After going through a revolving array of musicians in its early years, John Lydon's Public Image Ltd. entered a period of relative calm in the late '80s. The lineup for Lydon's post-punk, post-Sex Pistols group stabilized with guitarist John McGeoch, bassist Allan Dias and drummer Bruce Smith, each of whom had been a member of the band for multiple years.
However, Smith left before PiL began recording That What Is Not – "no loss at all, really," snipped Lydon in a 1992 interview – leaving the guitarist, bassist and singer to craft the release with session assistance. The band's eighth studio album found its members leaning towards more traditional rock sounds.
"It's got much more melody than what I'm used to," Lydon told Canadian TV. "It's a far more pleasant piece of work than people expect of me. We deliberately confined ourselves to a rock sensibility – that's the four walls that we're working within at the moment. And I think it's jolly good for us. It's a nice discipline. I mean you can't be avant-garde forever, but that becomes very boring."
Although less experimental, That What Is Not was far from a safe record. It featured world music touches as well as Lydon's typically pointed and deliberately abrasive vocals. Meanwhile, Tower of Power added horns to the tracks "Covered" and "Good Things." The LP was produced by Dave Jerden (Alice in Chains, Jane's Addiction), who added a sample of the Sex Pistols' "God Save the Queen" to the song "Acid Drops" to rile up Lydon.
"Well, it started off as a joke. The producer threw it in one night for a laugh," Lydon told Melody Maker. "I didn't find it too funny at first! But now I think it's perfect for the song. Oh, why not? I can't take myself too seriously."
The sample can be heard at the end of the track, with the former Johnny Rotten bellowing "No future!" Lydon expressed admiration for Jerden's work, admitting he would recommend him to other groups.
"We wanted a guitar-based record and that's what he's very good at," Lydon said. "So, yes, we're pleased."
The singer's lyrics remained as direct as the music, with Lydon taking on drug use ("Luck's Up"), rewriting history ("Think Tank") and censorship ("Acid Drops"). On the last song, he howls, "What is not dirty? / What is not clean? / What should we not hear? What shouldn't be seen?"
It turned out that some thought PiL's new album cover shouldn't be seen, as it displayed a cluster of hair in the shape of a part of the female anatomy. When touring to support That What is Not, Lydon would sometimes attach the tuft to his shorts and taunt the audience. He wanted to wear the shorts to be interviewed on U.S. TV.
"I went on Dennis Miller's show – before he became a Republican – and he wouldn't interview me wearing those shorts," Lydon told Harp magazine. "It's ridiculous, isn't it? The world we live in."
Regardless of controversy, the album cover or PiL's streamlined sound, That What is Not failed to make a large impact when it was released on Feb. 10, 1992 in the States (Feb. 24 in Britain). Although "Acid Drops" became a minor alternative hit in the U.S., the album didn't chart. It remains the group's second-lowest-charting studio release in the U.K. (at No. 56).
With a lack of commercial success, the band's label – Virgin – began to pull back. The label refused to pay for the band's 1992 world tour, forcing Lydon to bankroll it. He decided to end the group the following year. It wasn't until 2009 that he reformed the band, and 2012 when the next PiL album was released.
How 50 of Alternative Rock's Biggest Bands Got Their Names