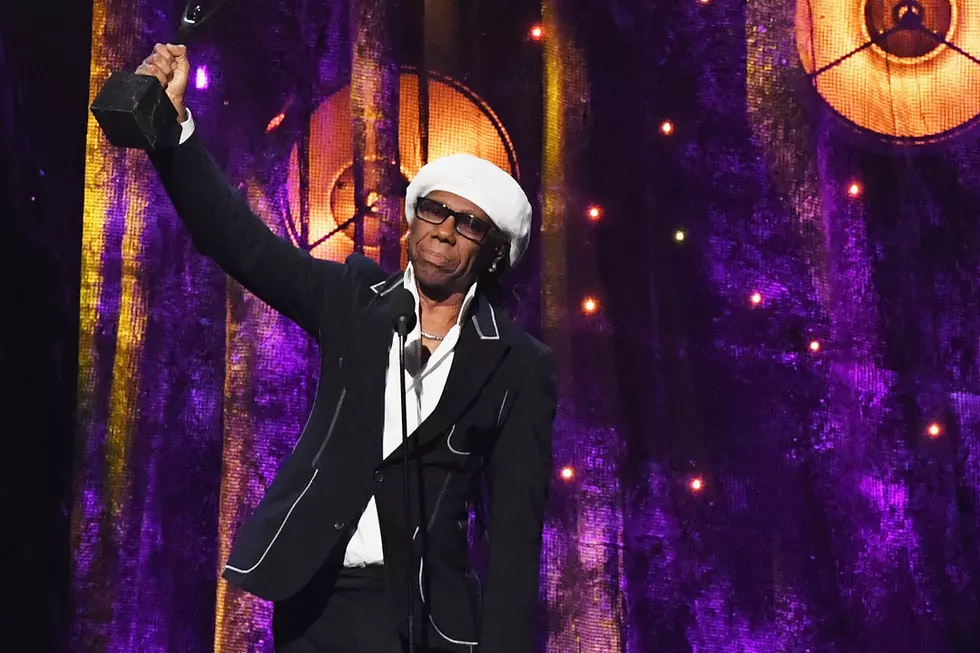 Nile Rodgers Inducted Into the Rock and Roll Hall of Fame
Mike Coppola, Getty Images
He received the Hall's Award For Musical Excellence, which recognizes his solo work. Chic, though they released chart-ruling (and widely sampled) hits like "Le Freak" and "Good Times," haven't gained entry yet as a band. They've been on the ballot 11 times.
Since their late-'70s heyday, Rodgers became a celebrated producer, perhaps most famously on 1983's Let's Dance with Bowie. He later worked on Bowie's 1993 album Black Tie White Noise, as well. He co-produced 1989's Cosmic Thing and 1992's Good Stuff for the B-52's, and took part in a series of Duran Duran projects including Notorious in 1986 and Astronaut in 2004. More recently, Rodgers returned to the top of the charts by joining forces with Daft Punk on 2013's Random Access Memories.
In his acceptance speech, Rodgers spoke about the influence that Chic's bassist had on his career, saying, "When I met this gentleman named Bernard Edwards, a bass player who started out as a guitar player who had this interesting style of playing and he told me about chucking and he just said, 'Man, you need to change your s--- up. You got all this jazz knowledge but if you learn how to play this thing, we could change music.' I didn't believe him until this young kid plugged into my amp that was our opening act and he sounded 10 times better than me but I knew that harmonically I had more knowledge than he did."
But though he bragged that he's sold 300 million albums and 75 million singles, he showed a great deal of humility in describing his approach to producing. "When people work with me, they think that I'm the boss," he continued. "But believe me, every record I do I join the band. I try and make every artist believe that all I have is their best interest at heart. I remember saying to Madonna, when we finish [Like a Virgin] it's going to say MADONNA [whispers] produced by Nile Rodgers. My name doesn't mean s---; it's going to be this big.
"This award, which is amazing to me, is really because of all the people that have allowed me to come into their lives and just join their band. Be it Mick Jagger, be it Madonna, be it Duran Duran, be it Daft Punk, be it Pharrell Williams, be it Diana Ross, be it Sister Sledge. I mean it just goes on and on and on. Thank you all."
Pharrell inducted him, recalling when Daft Punk played him the demo for "Get Lucky" that already had Rodgers' distinctive guitar part. "it reminded me of a party on an exotic island on another planet," he said. "It was like musical MDMA; an adrenaline shot for whoever wanted to leave this Earth and travel to a different universe and dimension. It was freedom. It was exuberance. It was unity. It was a throwback to another era. It was right now."
He also spoke about the effect that, as a songwriter and producer, Rodgers' numerous hits have had on "the number of people who have danced around the world to a Nile Rodgers song; who won contests at a club while 'Le Freak' was playing; who hugged a family member while 'We Are Family' was blasting in the background; who discovered hip-hop through a 'Good Times' sample; who jumped around in their bedroom to 'Like a Virgin,' or 'Let's Dance' or 'Notorious'; who felt empowered and more confident after hearing 'I'm Coming Out' or who had a fun night to 'Get Lucky.'"
Alternative Bands That Should Be in the Rock and Roll Hall of Fame