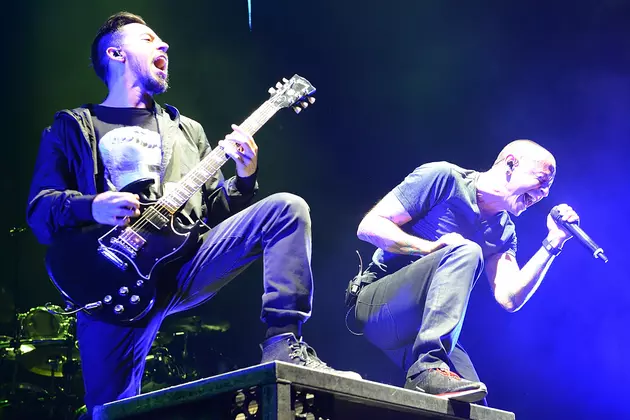 Mike Shinoda's 'Non-Linear Process' of Dealing With Chester Bennington's Death
Beth Gwinn, Getty Images
Linkin Park's Mike Shinoda has suggested their new album One More Light Live is part of the grieving process for late frontman Chester Bennington – while refusing to comment on the band's potential future. They'd played 21 dates of a tour when Bennington took his own life, aged 41, in July. One More Light Live was put together after fans' responses to the tragedy.
"All six of us in the band were so proud of the shows on the One More Light tour," Shinoda told Billboard. "Everyone was at their very best, especially Chester. He was singing better than I've ever heard him on stage. The idea to release this album came from our fans and friends, and I'm so glad they asked for it. It's a really nice way to showcase what a special experience each night was. And while I don't know what comes next for us together or individually, this album is certainly a beautiful way of looking back at the body of work we created with Chester."
Linkin Park celebrated Bennington's life and career at a memorial concert in October. Before that they'd released a fan-made video to accompany the title track of their 2017 studio album One More Light. They hadn't intended the song to be released as a single, but changed their minds in September after fans adopted it as their anthem for Bennington. Shinoda had noted, "In memorial events, art, videos, and images, fans all over the world have gravitated towards this song as their declaration of love and support for the band and the memory of our dear friend, Chester,"
"Grief is a non-linear process," he said in the new interview. "It doesn't have 'stages' that go in order, it has phases that come and go at random. Some people are having sad days, others are having good days, others are having angry days...add the constant stress and fear of things like the news cycle, and you've got some exceptional chaos on your hands!
"So I've tried to make it a point to share how I'm doing, mostly on Instagram and sometimes Twitter, especially when I feel like I'm making progress. Coping with the end of this chapter is obviously devastating, but at the same time, it's also the beginning of the next story."
Chester Bennington Year-By-Year in Photographs: 2000-17