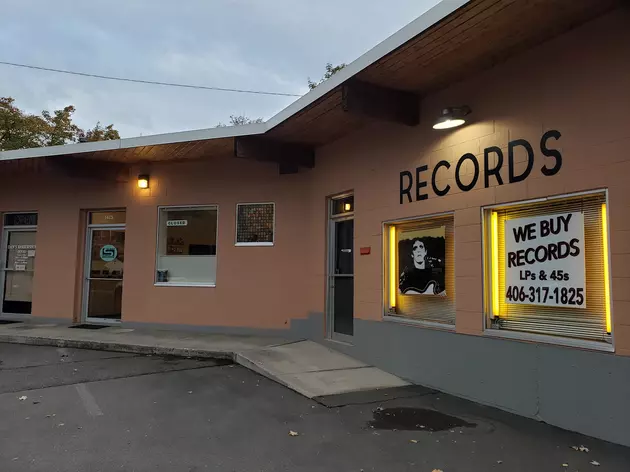 Do You Love Vinyl? Missoula's Rad New Record Store is Now Open
Photo by Angel
There I was, calmly cooking a pot of potato soup for my family on a chilly fall day when my buddy sends me a text saying that Missoula has a new record store. I had NO idea, hadn't heard one peep about it, I even drive past the location literally every weekday, how did I miss it!? They must have gotten that Lou Reed picture up in the last 24 hours though, I swear there's no way I could have missed that gem. In fact, when I got to their Facebook page they only had 13 "likes," so they're super new.
The place is called Slant Street Records and it's directly next to Great Harvest near the "Grizzly Grocery" roundabout on Higgins. It had to be the smell of Great Harvest's cinnamon bread that distracted me from noticing the new shop before. Slant Street, obviously named after our infamous jaggedy mess of confusion between the University District and Russell Street, is owned by two locals, Mike Steinberg and Collin Pruitt. Like me, you probably know Mike as the Executive Director of The Roxy, and Collin from his work at KGBA and for always being around the local music scene. From what I hear, the two buy record collections of all genres and were selling online before they started the brick-and-mortar. Another friend tells me that Slant Street will sell used only but I'll have to go in and see for myself.
Slant Street Records will officially open today, Friday, October 15th, at 1413 South Higgins, between Great Harvest and El Diablo. According to the sign on the door, regular hours are 11 a.m to 6 p.m., except Sundays when they close at 4 p.m. and they are closed on Tuesdays. We're stoked to check 'em out! There's just something that hits different about walking into a store and buying something that you can take home. It's a completely different experience than buying online or digital downloads, ya know?
Check Out the Best-Selling Album From the Year You Graduated High School
Do you remember the top album from the year you graduated high school?
Stacker
analyzed
Billboard
data to determine just that, looking at the best-selling album from every year going all the way back to 1956. Sales data is included only from 1992 onward when Nielsen's SoundScan began gathering computerized figures.
Going in chronological order from 1956 to 2020, we present the best-selling album from the year you graduated high school.