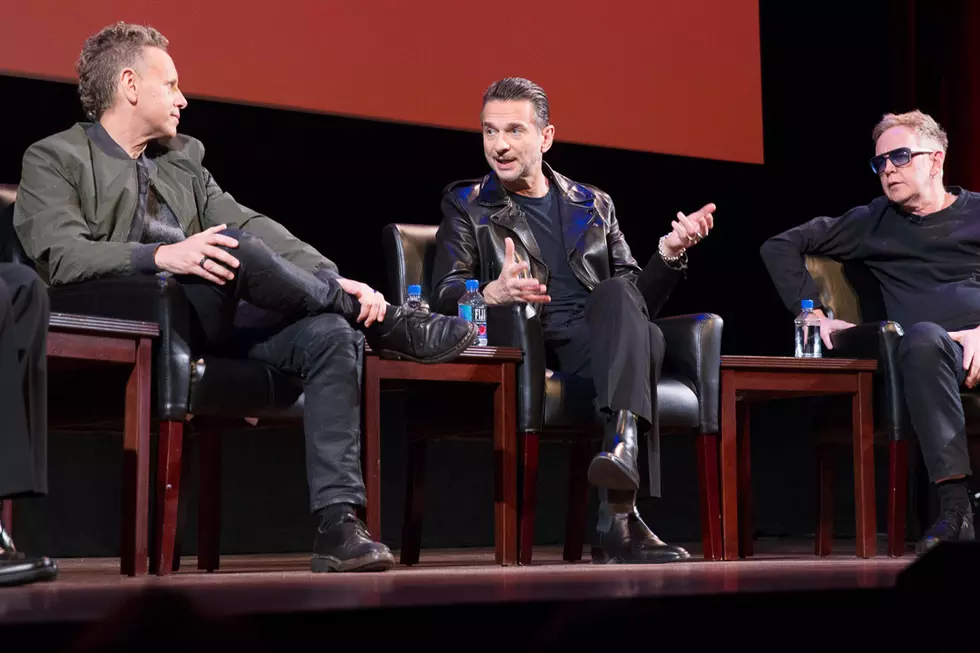 Depeche Mode Looks Forward and Back on Their Career at NYC Talk
Photo credit: Rob Berry for The New York Times
It's shaping up to be a very busy year for British synthpop legends Depeche Mode. First their 14th studio album Spirit, the group's first new work in four years, is due out on March 17. Most recently, tickets went on sale for the North American dates of the band's Global Spirit tour starting later this summer.
But before all of this impending future activity, the group talked about their past and present in front of a sold-out audience last night at New York University's Skirball Center for the Performing Arts, as part of a New York Times TimesTalks event. Featuring all three members of Depeche Mode -- Martin Gore, Dave Gahan and Andy Fletcher -- the event, which was moderated by the Times' pop music critic Jon Pareles, touched on almost every facet of the band's nearly 40-year career.
Early on, the conversation began with the new Spirit album, particularly the timely leadoff single "Where's the Revolution." "It seems as though it was kind written to be released right now, because it seems to make a lot of sense right now," said Gore, the band's chief songwriter. "I just felt the world was in a mess. It felt relevant to be writing those songs then. It felt like I would be doing a disservice if I didn't acknowledge that fact."
The members talked about working with the new album's producer James Ford, whose credits include Arctic Monkeys and Florence + the Machine. "He definitely had an idea in his head of how we wanted something to sound. ... He's an artist," Gahan said. "He didn't work the songs into the ground."
The majority of the lively evening--with some laughs and applause sprinkled along the way -- centered on Depeche Mode's musicianship in the early days and the songwriting process. There were mentions of some important moments in their career: working with producer/mentor Daniel Miller of Mute Records, collaborating with photographer/filmmaker Anton Corbijn, who directed many of the group's striking videos, and making Black Celebration. "I presented the demos to Daniel," recalled Gore, "and he played them to our [radio] plugger at the time. And they told me, 'Sorry back to the drawing board.'"
"But we made the record anyway. We were kind of a bit rebellious," added Gahan. "We'd do the opposite of what people would tell us to do. And that worked to our favor."
The discussion also referenced their hugely successful Violator album from 1990, beginning with the origins of the classic "Personal Jesus," which was traced to Priscilla Presley's book about her former husband Elvis Presley. "It just felt like how Elvis must have seemed to her," explained Gore about that track.
"Everything came together right on Violator. The quality of songs from Martin was unbelievable," Fletcher later said of that period. He recalled how "Enjoy the Silence" started out as a ballad, until then-member Alan Wilder and producer Flood suggested speeding up the song's tempo augmented by a beat and a guitar line. "Within an hour, we knew we had a massive record," said Fletcher.
Another Depeche Mode song that Pareles brought up was the gospel-ish and spiritual "Condemnation," off of 1993's Songs of Faith and Devotion. "Sometimes you just sit there and you write a song, and all the words flow," Gore said of writing that song. "That was one of those times. I remember Flood saying to me, 'Do you got any more songs?' 'I've got one more.' I played it to him. He went, 'That's amazing. You haven't got any more?'"
"I got lucky with that," added Gahan about singing "Condemnation." "I think that's the first time I felt like a singer. That was definitely a monumental moment for me. I just went for it, sang the song in its entirety. It's unique. And it's a beautiful song. It moved me"
The last portion of the event was a Q&A between the band and the audience, ranging from discussing certain songs, expanding the show set list and deciding which person sings lead on which songs. "Dave takes the songs I write to another level," Gore said, who occasionally sings lead. "His voice has a bit more aggression to it, a power that my voice doesn't have. To me it's obvious that Dave should sing the majority of the songs."
Quite aptly, the talk touched on the group's longevity and success, acknowledged by their recent nomination for the Rock and Roll Hall of Fame. "We had this famous accountant's plan that we were supposed to have a few hits and then disappear forever," Fletcher joked. "To be honest, it was never our ambition to last this long, but it's been a wonderful dream come true, really. To see all the fans here 36 years after our first single is absolutely fantastic."
Watch Depeche Mode's Chat at the Skirball Center for the Performing Arts
How 50 of Rock's Biggest Bands Got Their Names