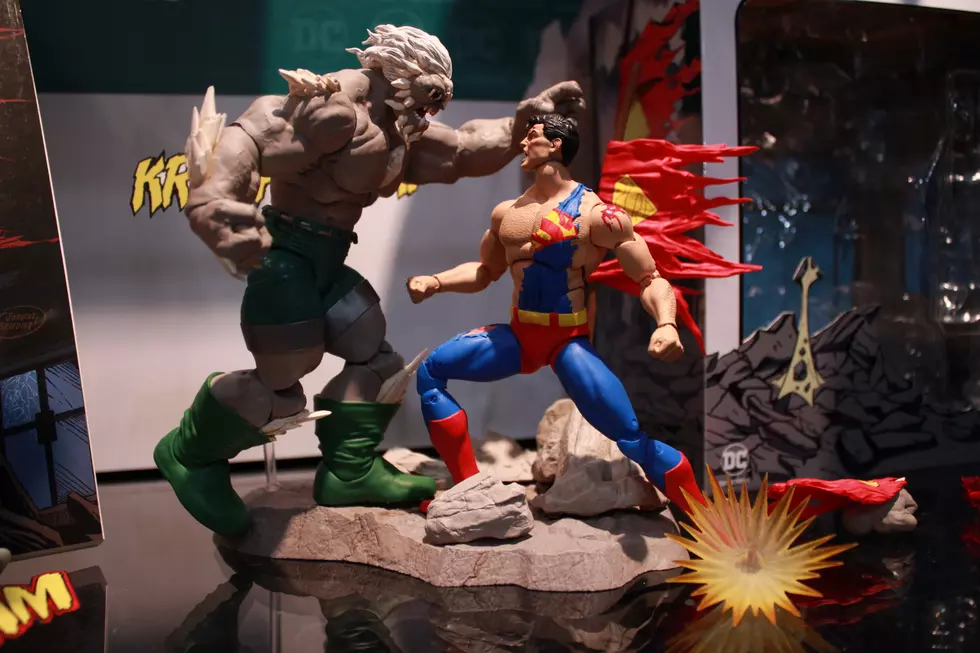 DC Collectibles Shows Off Its Icons, Wonder Woman, and More [Toy Fair 2017]
Photography by Luke Brown, Townsquare Media
Before we all left to enjoy the weekend, DC Collectibles spoiled us with a number of preview images of its numerous Toy Fair reveals. Seeing new Justice League statues, DC Icons figures and more Batman: The Animated Series collectibles was great, but there's nothing like seeing them in person to really get the full effect. We soaked all the details in when we visited with DC Collectibles, and this year and beyond look to carry the momentum built up during the later half of 2016.
The DC Icons line is going great places. Instead of just bringing specific interpretations of characters to figure form, DC Collectibles is striving to include more moments. You could see it a little bit with the Batgirl of Burnside deluxe set, but you can clearly see it in the new "Death of Superman" pack coming this year. Instead of just giving us a Superman and a Doomsday from that storyline, we're getting the Superman and Doomsday from the moment Clark saved the world and gave his life in the process. Different sound effect accessories, action effect accessories and head sculpts will all help bring Superman #75's most dramatic panels to life. I can't wait.
Elsewhere, the DC Cover Girls statues based on the art of Stanley Lau will be coming to an end. Zatanna and Death will close out his run on the series, and though we don't know which artist is taking his place next, DC Collectibles has a huge announcement planned for the coming months to reveal who's next in line. Considering we've seen Adam Hughes and Amanda Conner already, I'm a bit vexed as to who is a big enough name to bring the women of the DCU to life. Fingers crossed they swap back to a female artist again. The alternating schedule seems like a great way to do it.
DC Bombshells will of course continue with Starfire being added to the line within the next 12-18 months. Her being a firefighter that is trying to put her own hair out is a nice touch. The action figure versions of the Bombshells will keep coming through 2018 as well, with a number of big names like Hawkgirl, Batgirl and Mera getting their shots in the sun next.
Though no new Designer Series action figures were on display, some new Designer Series statues were hogging the spotlight. In particular, the Neal Adams Superman and Patrick Gleason Aquaman and Mera pieces stood out. The Brian Bolland Joker is well made, but we've seen this memorable image captured in statue form before, so it doesn't strike quite the same chord as these wholly original statues.