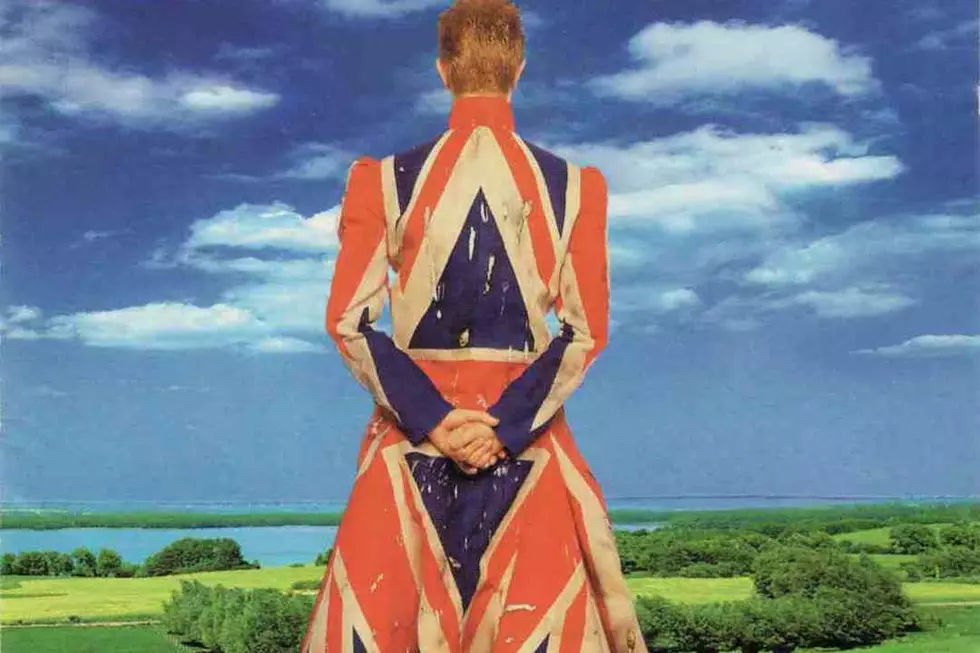 20 Years Ago: David Bowie Dives into Electronica on 'Earthling'
BMG
A series of dates with Nine Inch Nails sent David Bowie further into experiments with electronica on Earthling. Released on Feb. 3, 1997, the album found Bowie rushing right back into a recording studio after the tour.
"I really thought it would be great if we could do a photo, almost a sonic photograph of what we were like at that time," he told the Seattle Times in 1997. "So, [guitarist] Reeves [Gabrels] and I started writing immediately after we finished on the road."
Dotted with time-specific experiments in industrial sounds and drum-and-bass, Earthling very much represents where Bowie – who took over production duties for the first time since 1974's Diamond Dogs – found himself musically at a certain moment in time. They arrived at Manhattan's Looking Glass Studios with no new songs, yet emerged just fewer than three weeks later with the finished project. In this way, the album mirrored his more in-the-moment approach for 1980's Scary Monsters (And Super Creeps). Earthling was different, however, in that Bowie was specifically trying "to produce some really dynamic, aggressive-sounding material," as he told the Times.
"Last Thing You Do," through it ironically was almost left off the final track listing, tells the story in microcosm. Originally set to appear as a b-side, this song's percussive loops, sad and mystifying lyrics, and insane Gabrels riffs seem to be working at odds the whole time. That actually made it perfect for Earthling, where Bowie seems to be the only thing holding it all together. This tension gives the work new power, even long after the height of his faddish musical approach.
Despite the telescoped timeframe, there was plenty of Bowie-esque inventiveness embedded here – from the way they ran Gabrels guitar through a sampling keyboard to create riffs, to the weird inversion of Stravinsky on "Battle for Britain," to the broad spectrum of found objects that made their way into Earthling. They utilized a demo sample of Gail Ann Dorsey's bass on the stream-of-conscious "Little Wonder," and an old riff pattern that Jimmy Page once played for Bowie on the Grammy-nominated "Dead Man Walking."
Listen to David Bowie Perform 'Dead Man Walking'
"Unlike most drum-and-bass things, we didn't just take parts from other people's records and sample them," Bowie told the Times. "On the snare drum stuff, Zac [Alford] went away and did his own loops and worked out all kinds of strange timings and rhythms. Then we speeded those up to your regular 160 beats per minute. That's very much how we treat the album. We kept all sampling in-house and created our own soundscape in a way."
To close the thematic circle, Nine Inch Nails frontman Trent Reznor appeared in the utterly dark video for "I'm Afraid of Americans," and also helped Bowie to a minor hit with a remix of the song – a classic moment of Bowie alienation that had been updated after first appearing on the 1996 soundtrack for Showgirls.
"'I'm Afraid of Americans' was written by myself and [long-time collaborator Brian] Eno," Bowie said in the press release announcing Earthling. "I was traveling in Java when the first McDonald's went up. It was like, 'For f---'s sake.' The invasion by any homogenized culture is so depressing, the erection of another Disney World in, say, Umbria, Italy, more so. It strangles the indigenous culture and narrows expression of life."
Even this late in his career, there was no danger of Bowie surrendering to musical homogeny, either. He would ultimately compare his latest musical intersection to another notable side trip, this time into R&B for 1975's Young Americans.
Back then, "I wanted to work within the Philadelphia soul experience, and the only way that I knew was to bring what's thoroughly European about me to this intrinsically black American format – and this [album was] not a dissimilar situation," Bowie told Steve Pond for Live! magazine in 1997. "It was the hybridizing of the European and the American sensibilities – and for me, that's exciting. That's what I do best. I'm a synthesist."
David Bowie Albums Ranked Worst to Best