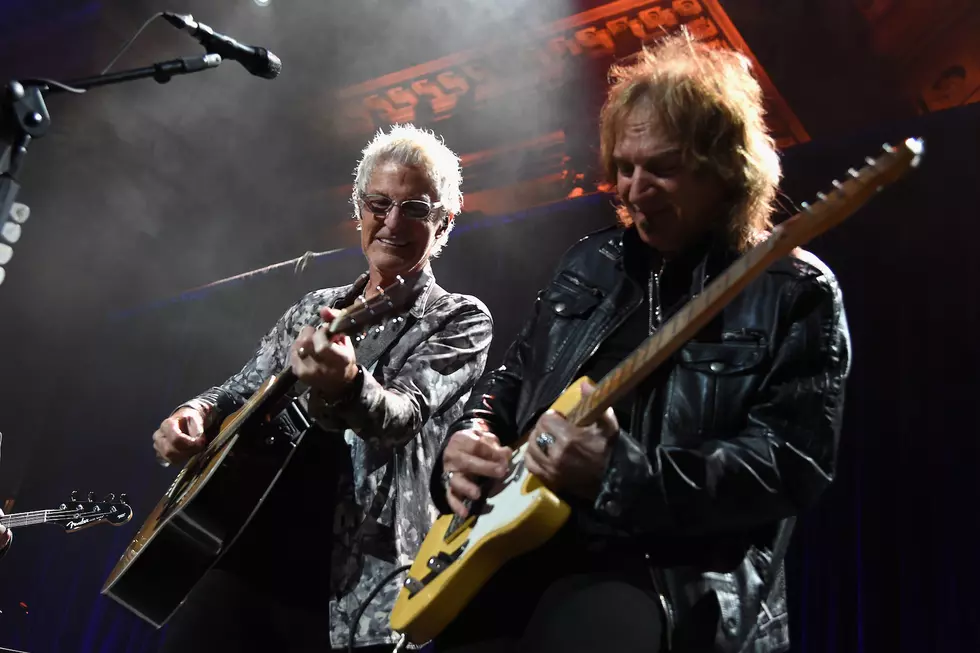 Hear Bastille's Dan Smith Cover REO Speedwagon's 'Can't Fight This Feeling'
Mike Coppola, Getty Images
The commercial — the latest in an annual series from British department store John Lewis & Partners and supermarket chain Waitrose & Partners — features singer Dan Smith crooning over the London Contemporary Orchestra's regal arrangement of piano, strings, brass and tympani.
The story, titled "Excitable Edgar," follows the titular miniature dragon, who repeatedly ruins his village's holiday festivities: burning down a Christmas tree and melting a snowman with his fire-breathing. But his blunders are redeemed when his young friend cleverly finds him the perfect job: lighting the pudding for their communal feast.
REO Speedwagon frontman Kevin Cronin recently enthused to NME over Smith's revamped version of the chart-topping 1984 hit. "I'm heartened that the singer John Lewis chose to perform our song is in a band whose music I like," he said. "That makes it all the sweeter. I'm an okay singer, I can sing the songs I wrote, but some people have a rare gift in their throat. Hearing your song sung by them is wonderful, and that's how I feel about Dan's version of 'Can't Fight This Feeling.'"
Cronin did take issue with one aspect of Smith's performance: his enunciation. In the recording used in the advertisement, the Bastille frontman appears to belt, "I don't fight this feeling any longer" instead of the actual opening line,"I can't fight this feeling any longer." "When I first heard that I was like, 'Wait a minute, what? That's not even grammatically correct, and it's the title of the song. How did he get that wrong?'" Cronin said. "Maybe it was just an honest mistake. Hopefully I can meet Dan one day and ask him to explain it to me."
(A source for the band told NME that Smith actually sang the correct words, chalking up the perceived flub to "the way the arrangement merges with his voice." The new single version of the cover clearly fixes the issue.)
Pop singers like Lily Allen and Ellie Goulding have also recorded music for the ad campaign, which has run since 2007. (Elton John performed "Your Song" in the 2018 edition, which reportedly cost $6.5 million to produce.) While Cronin admitted he'd never heard of John Lewis or Waitrose, he said he loved the commercial itself.
"You can tell by the production values this is huge," he said. "Dan Smith is one of six singers John Lewis had in the running to cover the song — I'd never heard of such a thing. The advert is beautiful. As a father, it had me from the first moment."
The ad arrives during REO Speedwagon's ongoing North American tour, which continues Dec. 4 in Sioux Falls, S.D.; after a break, the trek picks up Feb. 4 in Beverly Hills.
See REO Speedwagon Among Rock's Most Underrated Albums