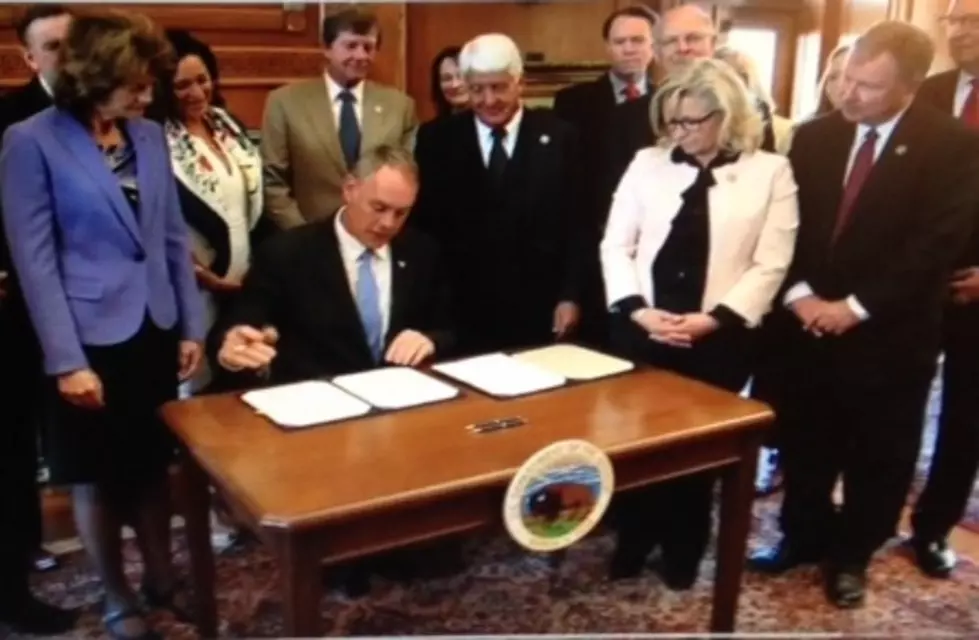 Zinke Signs Secretarial Orders On Energy Independence
Ryan Zinke Signs Orders
One day following President Donald Trump's signing of Executive Orders to reexamine the Obama administration's EPA Clean Power Plan, Secretary of the Interior Ryan Zinke put the policy into effect by signing Secretarial Orders implementing the policies.
At his office in Washington, Zinke began by ending the federal coal moratorium.
"We already do EIS's" Zinke began. "We already have MEPA in place, the coal moratorium that was set in place was one, a waste of money, and two, it simply prolonged  and delayed necessary coal leases. 40 percent of our country relies on federal coal, so I'm glad to sign this."
Zinke then went on to sign the the order for American energy independence.
"This is also a full scale review to make sure we fulfill the President's objective," he continued. "The energy independence initiative contains three things, one, it's environmentally the right thing to do, because it's better to produce energy here with reasonable regulations, than to watch it be produced overseas. As a former Commander, I've been overseas, and if you want to look at horrific policies just look to Africa and the Middle East. Secondly, jobs. Jobs matter. Coal jobs, energy jobs, over 6.4 million people's jobs depend on energy. Lastly, national security. Russia is in the news a lot. It's about us exporting liquid natural gas to eastern Europe, In Iran, we want to make sure we can supplant Iranian crude if we so choose, and we have the United States Navy to do that. The world is much safer when America is strong."
Secretary Zinke added that, "It's important that taxpayers get the full value of traditional and renewable energy produced on public lands and that we ensure companies conduct environmental reviews under NEPA and have reclamation plans."
Zinke quoted former Chairman Old Coyote of the Crow Tribe in Montana, who said, 'there are no jobs like coal jobs.' Zinke  hopes to return those jobs to the Crow people.