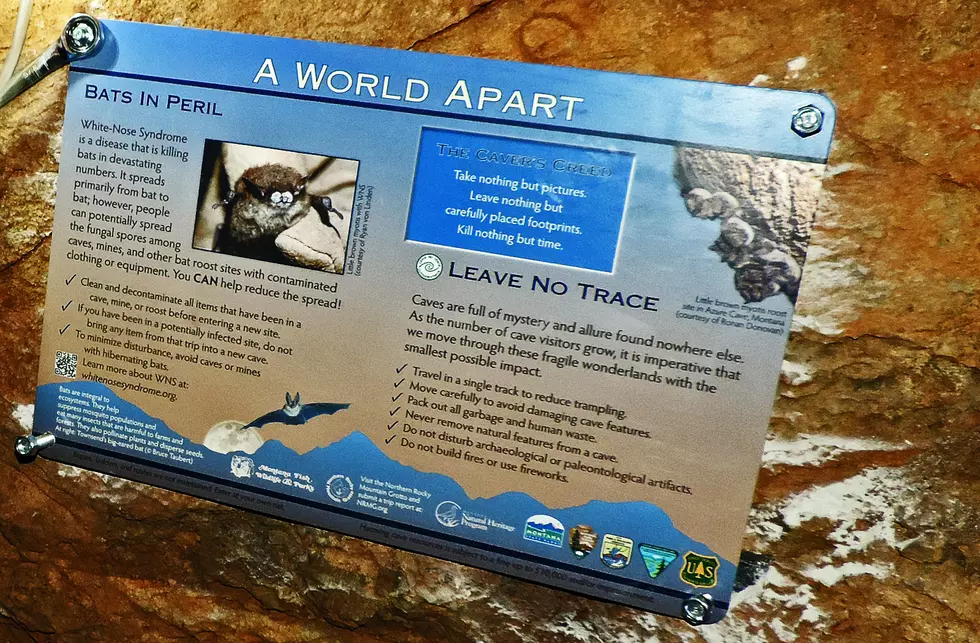 White-Nose Bat Syndrome Found in Montana
FWP sign about White Nose syndrome. (Photo supplied by Montana FWP)
A disease that has killed over 6.7 million bats in the United States and Canada has been found inside the Montana borders. Montana Fish, Wildlife and Parks announced the discovery of the fungus that causes White-Nose syndrome in six eastern Montana counties. So far, no diseased bats have been found, but biologists noted that bat deaths were reported last spring just east of Montana in North Dakota.
Confirmation of the fungus will require further testing and sampling of the flying mammals and a request to the public to report any dead or dying bats to the nearest FWP office. You should not touch the animal because humans can spread the disease from location to location, even though it is not known to affect humans, pets, livestock or other wildlife. White-Nose Syndrome is specific to bats, causing a white powdery substance around their nose and mouth. Bats hibernate in the winter, but the disease causes irritation that wakes them up too early when there is no food available, leading to further weakness, sickness and death. If you see a bat flying in the winter months, that is considered unusual behavior. Call Fish, wildlife and Parks.
Lauri Hanauska-Brown, FWP Wildlife Division Bureaus Coordinator, said in a news release, "As the fungus and this deadly disease have moved across the states, we knew it was only a matter of time before it reached Montana. Now, we have to work together to help understand and combat this disease." She said further sampling and testing of bats this spring are being scheduled in Montana. Bats are beneficial, eating their weight in insects during their nightly flights.
Working together means making sure the fungal spores don't spread from one place to another on peoples' clothing and equipment - especially those who explore caves. FWP has information about decontaminating gear.
The disease has been devastating, first noticed in 2006 and is now in 35 states and seven Canadian provinces. It has killed entire bat colonies in many eastern states. If you need further information or need to report a sick or dead bat, call the FWP Wildlife Health Lab in Bozeman at 406-577-7882.
LOOK: TV Locations in Every State