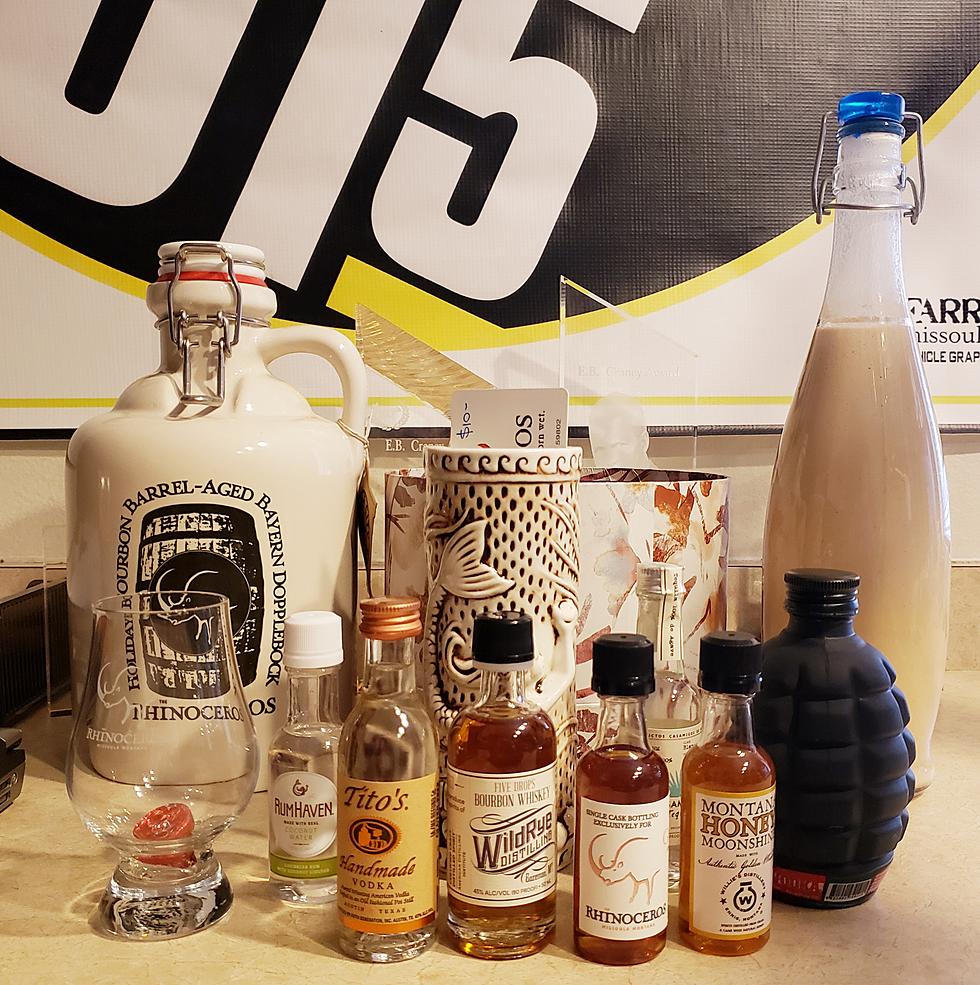 Unique Missoula Spirits for Gift-Giving and Holiday Festivities
Photo by Angel
The holidays are upon us and for those who need spirits for festive gatherings or to tolerate Christmas life, the Rhino has some fun and unique offerings!
Holiday Rum
This is the tall bottle you see in the photo above. It's a variety of high octane rums mixed with delightful spices, handcrafted by The Rhino. I asked owner Kevin Head if this would be something to shot or sip, and he said both, but it's pretty potent. You can purchase these now at The Rhino.
Holiday Mini-Bar
This fun little kit includes a variety of minis, plus a "grenade" full of A-Team Vodka. It also includes a certificate for a special Rhino hat (they'd be in the basket but the supply chain/shipping crisis strikes again), a $10 gift card for the bar, the neat glass you see in the photo, candy, and a really cool porcelain Rumhaven tiki glass. They're available for purchase now at The Rhino!
Whiskey Barrell Doppelbock Growlers
Last year, Kevin Head purchased a barrel of Jack Daniels, when it was empty, he brought it over to Jurgen at Bayern to be filled with Doppelbock and aged. That deliciousness will be ready in the second week of December 2021. Keep an eye on the Rhino's Facebook page to find out when it will go on sale. This special Doppelbock will be served in the beautiful custom growler you see in the photo above. Enter to win one by tapping the "Message Us" button on our app and sending the word GROWLER.
The staff and management at The Rhino loooove the holidays, it's definitely the place to bring friends and fam this season for festive fun. Find them at 158 Ryman, downtown.
26 Intriguing Montana Books That Make Great Gifts
Here are some great Montana books to consider as gifts for the holidays, or any time of year for birthdays and special occasions. There's something for the person who loves to read fiction, for the historian, and those who just love nature and views of the most gorgeous state in the nation.