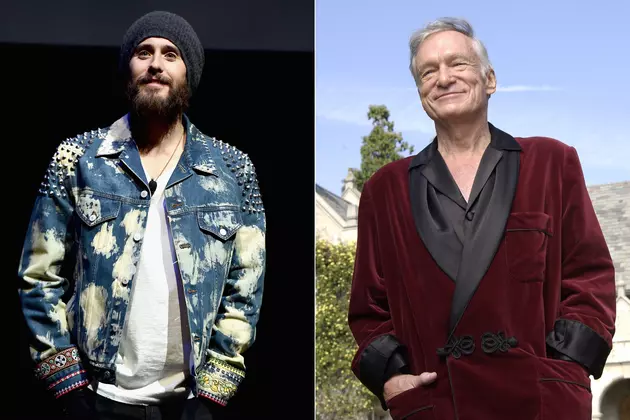 Thirty Seconds to Mars' Jared Leto to Star as Hugh Hefner in Upcoming Biopic
Alberto E. Rodriguez / Robert Mora, Getty Images
These are the best of times for Jared Leto, who continues to find a balance between his music with Thirty Seconds to Mars and the demand post-Oscar in the acting world. And while "Walk on Water" continues to climb the charts and the announcement of the band's next studio album is around the corner, it's hard not to be excited about his acting career as well. With the recent passing of Playboy founder Hugh Hefner, there's been plenty of interest in the icon's life and according to the Hollywood Reporter, Leto will play Hefner in an upcoming biopic.
Brett Ratner has been chosen to direct the film, and says that Leto actively sought out the role after learning the director was on board. "Jared is an old friend," Ratner told the Hollywood Reporter. "When he heard I got the rights to Hef's story, he told me, 'I want to play him. I want to understand him.' And I really believe Jared can do it. He's one of the great actors of today."
Ratner's RatPac Entertainment is developing the film after seeking to acquire the rights since 2007. "My goal is to do the motion picture as an event," says Ratner. Making sure that everything was in place, Ratner invited Leto to the Playboy Mansion for the premiere of the docuseries American Playboy: The Hugh Hefner Story earlier this year. "There's enough footage on Hef out there that Jared will be able to get as much information as he wants," said the director. Leto can also be seen this week appearing in the highly anticipated Blade Runner sequel, Blade Runner 2049.
Leto has also been busy on a film project associated with Thirty Seconds to Mars. This past summer, he compiled fan-shot footage filmed on July 4 for a documentary titled A Day in the Life of America. The film is meant to showcase what it means to be an American through the many submissions.
Stay tuned for news on Thirty Seconds to Mars' new album as it becomes available and look for Leto in Blade Runner 2049 opening this week.
Thirty Seconds to Mars' Jared Leto: It Was Painful to Play The Joker in 'Suicide Squad'
50 Most Game-Changing Hard Rock + Metal Albums of All Time
Loudwire Music Awards Tickets Available Now!