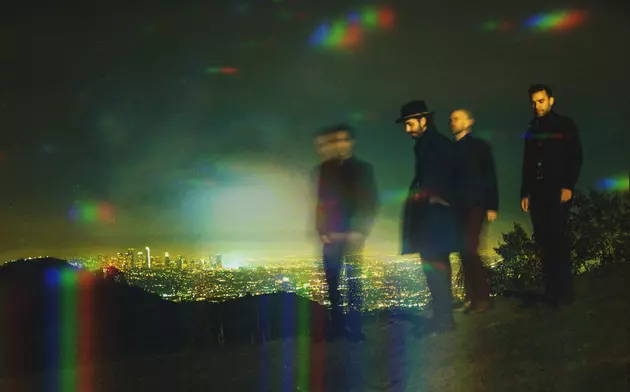 Shakey Graves with Lord Huron Concert in Missoula
Lord Huron press photo
The latest Logjam show announced for the KettleHouse Amphitheater is Shakey Graves & Lord Huron!
The show will be Tuesday, July 30th with tickets going on sale this Friday, February 8th. There's also an online only presale this Thursday. Tickets are $35 for general admission lawn and $50 for the pit. Get yours at the Top Hat or online. I believe this will be another show that sells out immediately, so get 'em while you can.
Lord Huron was created by Los Angeles-based Ben Schneider. Born and raised in Michigan, Schneider drew inspiration from the Great Lakes, which were carved by glaciers 14,000 years ago, and his music stands in awe and wonder of the natural world. After writing and recording two independent EPs (Into the Sun and Mighty) on his own, demand grew for Lord Huron to perform live. Schneider recruited friends Mark Barry (percussion), Miguel Briseño (bass) and Tom Renaud (guitar). Having first played music together at the tender age of 12, the group reunited and quickly hit their stride, transforming the project into a full-fledged band. Lord Huron signed with IAMSOUND, and the label released 2012's Lonesome Dreams, and Strange Trails in 2015.

Playing a smoky, spectral fusion of blues, folk, and rock in a stripped-down one-man-band style, Shakey Graves is the stage name of singer, songwriter, and guitarist Alejandro Rose-Garcia. Born in Austin, Texas on June 4, 1987, Rose-Garcia grew up in a family that encouraged his creative pursuits -- his mother was an actress who also worked as a director and writer, while his father managed a theater. Initially, Rose-Garcia followed his interest in acting, working with his high school's drama club and later moving to Los Angeles, where he appeared in several films (including Spy Kids 3: Game Over and Material Girls), as well as landing a recurring role on the TV series Friday Night Lights. But Rose-Garcia also had a passion for music, and he wrote and recorded songs in his spare time. In 2007, Rose-Garcia attended the Old Settler's Music Festival in Driftwood, Texas, and while spending time with friends, they began coining rustic nicknames for one another; someone dubbed Rose-Garcia "Shakey Graves," and the name stuck.