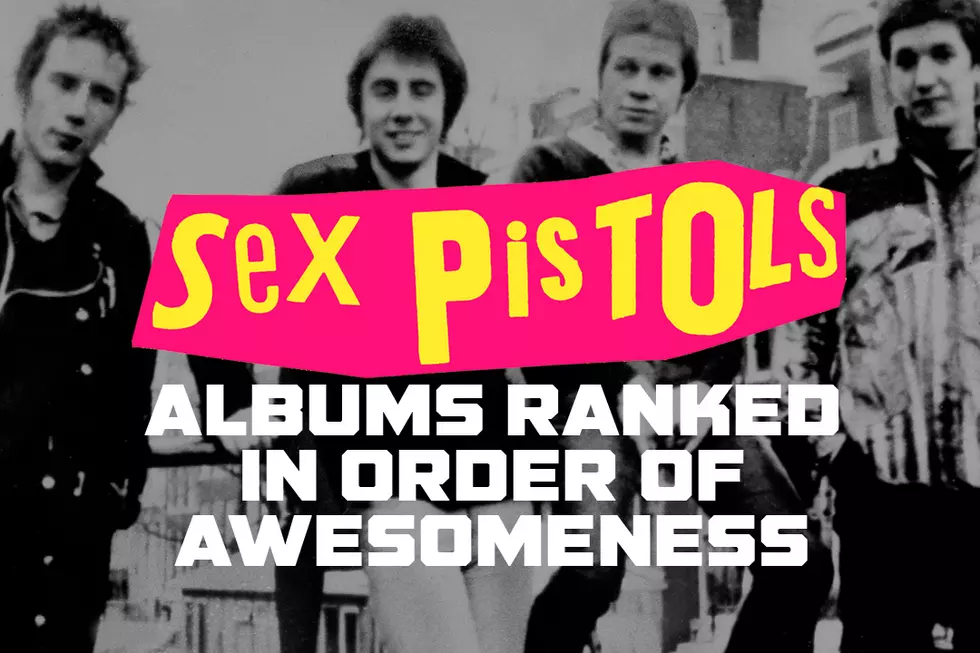 Sex Pistols Albums Ranked in Order of Awesomeness
Warner Brothers
It was the best of times; it was the worst of times. The mid-'70s were awash in crime, drugs, disco, delusion and despair. All the kids wanted something to do. New ideas and heroes were being born, or hatched, across the globe. Especially in London, the angst of youth was being given a voice in a thing called punk rock, and the Sex Pistols led the way. We've ranked all their studio albums in order of awesomeness.
Though clichés abound all these years later about what punk was or wasn't all about, it signaled changes in attitudes that, though took a while to infiltrate, are still being felt today to some degree.
Of all the bands of the era, perhaps the most significant was the Sex Pistols: four working class kids, thrown together by Svengali manager Malcolm McLaren to create, in his mind, the ultimate rock and roll band. They would inspire countless restless young souls across the U.K., and the world, to pick up an instrument and give it a whirl, technical ability be damned.
The sound barrier crashing of Steve Jones' guitar was a power all its own, but the vocal style of Johnny Rotten was unlike anything we had ever heard before. His delivery was theatrical without being pompous, and so full of anger, there was no denying him your attention. While the chaos surrounding the band, both manufactured and genuine, grabbed headlines at home and abroad, it is the music that has stood the test of time. Their first single, "Anarchy in the U.K." was issued in November 1976, with their one and only album, Never Mind the Bollocks, Here's the Sex Pistols hitting shops a year later. Within a couple of months following Bollocks' release, the band had imploded.
Though the odd reunion would take place over the years, the band would never enter the studio to record another album, leaving their legacy, and legend in tact with a few legendary singles, and one perfect LP that, somehow, still sounds as powerful, defiant, and yes, awesome, 40 years later. God save the Sex Pistols!