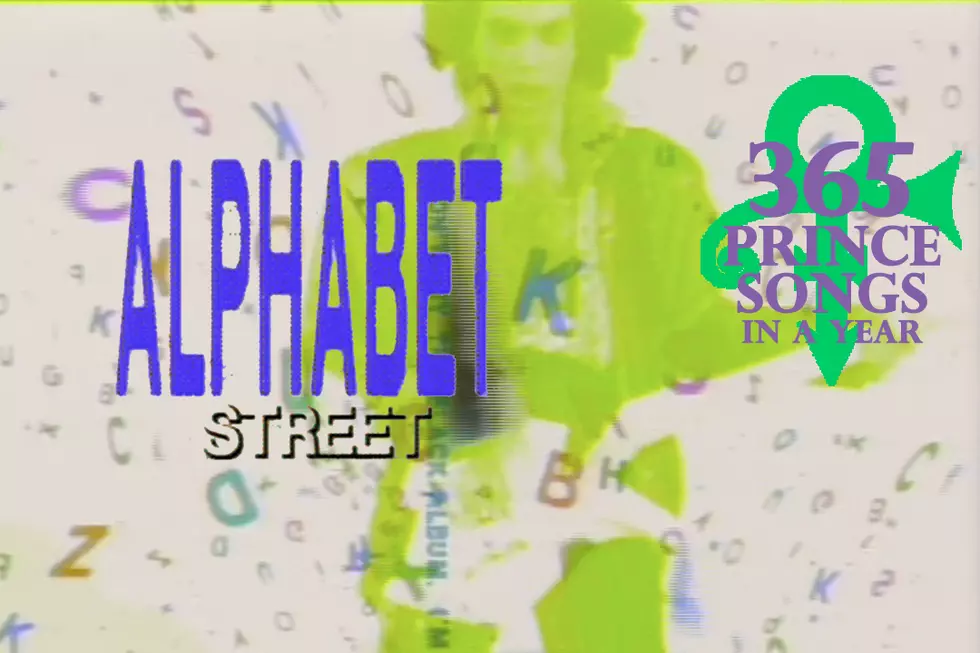 Prince Spells Out His Playful, Positive New Outlook on 'Alphabet Street': 365 Prince Songs in a Year
Paisley Park Studios
To celebrate the incredibly prolific, influential and diverse body of work left behind by Prince, we will be exploring a different song of his each day for an entire year with the series 365 Prince Songs in a Year.
Few artists indulged their playful side as frequently as Prince. That's the vibe that permeates "Alphabet St.," the first single released from 1988's Lovesexy, and the only track from that ill-fated album to make any noise on the charts, peaking at No. 8 on Billboard's Hot 100.
It was a return to the party for Prince, who was coming off of the more weighty lyrical content that informed much of 1987's Sign 'O' The Times and retreating from the funky darkness of the Black Album, which he withdrew shortly before its scheduled release on the grounds that it was "evil." Lovesexy was the antidote, and "Alphabet St." found Prince in the lightest mood he'd been on a single since "Kiss" two years before.
Of course, Prince being Prince, "Alphabet St." isn't quite as tossed off as it may have seemed to fans at the time. From a sonic standpoint, it might be one of his most meticulously crafted hits, especially if you get past the compact single edit (which barely clocks in at two and a half minutes) and luxuriate in the full 5:53 of the LP version. There are horns (making one of their first appearances on a Prince single), some jazzy guitar comping that makes up the instrumental hook and even a rap from dancer Cat Glover. Given that the Black Album featured a hip-hop parody called "Dead On It," Glover's cameo is somewhat ironic, but her 16 bars add to the song's fun, especially the invocation to "jerk your body like a horny pony would."
Lyrically, "Alphabet St." falls perfectly in line with its parent album's positivity. The first couple of verses feature Prince in his trademark horndog state, albeit in a less lecherous way than recent hits like "U Got the Look." The bridge espouses a philosophy that would coalesce just two years later as part of his minor hit/mission statement "New Power Generation." "We're goin' down, down, down / If that's the only way / To make this cruel, cruel world / Hear what we've got to say / Put the right letters together / Make a better day" is a bit hippy-dippy, but so was "Hot Fun in the Summertime" by Sly & the Family Stone, a song that Prince almost definitely had in his head when creating "Alphabet St."
Lovesexy wound up being Prince's worst-selling album since his debut for several reasons. Prince's nude form on the cover scared off some retailers, as did the one-track CD indexing. There was also the fact that the last of the singles from Sign 'O' the Times, was just moving to recurrent status on Top 40 radio. "I Could Never Take the Place of Your Man" peaked in the Top 10 at the beginning of 1988, and its B-side, "Hot Thing," received enough airplay to chart on its own a few weeks later. There's also the lovably amateurish video, which Prince reportedly filmed at Paisley Park during a massive snowstorm using public-access video equipment.
Whatever the case was, "Alphabet St" was the lowest-charting first single from a Prince release since "1999" six years before, even though it had enough ear candy to be a radio smash. It was his last essential single of the '80s, but also arguably signaled an end to Prince's position at the head of the musical vanguard. Hip-hop and alternative rock were reaching their full potential at this point, and in a year when Rob Base and DJ E-Z Rock's  "It Takes Two," the Jungle Brothers' "I'll House You" and Morrissey's "Everyday Is Like Sunday" were resonating with edgy young folks, and George Michael (whose music at the time was certainly influenced by the Purple One) was seizing Top 40 radio and the hearts of female fans, "Alphabet St." felt like "just another Prince song" as opposed to the seismic events that "Kiss", "When Doves Cry", "Raspberry Beret" and "Sign 'O' the Times" were.
Barely four years later, "Alphabet St." reared its way into the public consciousness again with placement via sample in two wildly disparate songs. Hippie rap group Arrested Development took a single word (repeated twice) and used it as a major piece of their debut single "Tennessee," costing the group $100,000 after Prince sued them. Shortly after, Ween grabbed the squealed "No!" at the beginning of "Alphabet St." and used it to mask an obscenity on the radio edit of their breakthrough hit "Push Th' Little Daisies." Both served as testaments to the enduring appeal of "Alphabet St.," even though it's not often mentioned when listing Prince's classic singles.