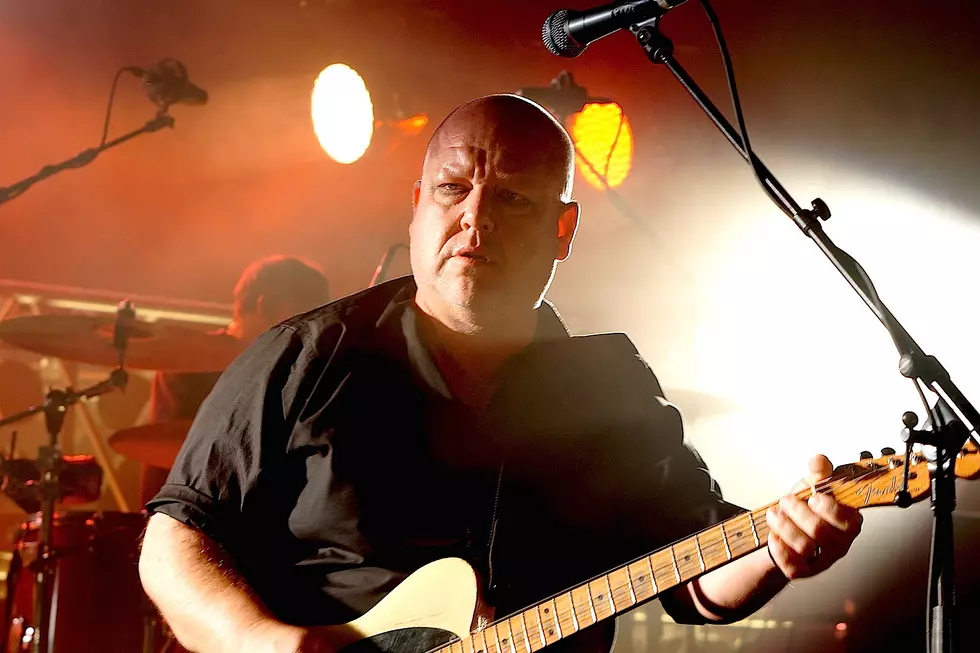 Pixies Bring 'Wave' of Infectious Songs to Port Chester, N.Y.: Photos, Set List, Review
Spencer Kaufman, Diffuser
Pixies descended upon the Capitol Theatre in Port Chester, N.Y., on Sunday night (Sept. 24) in support of their latest album, Head Carrier, and painted a beautiful portrait of their 30-year career with an extensive set.
The alternative rock heroes kicked the night off with "Wave of Mutilation" off their 1989 masterpiece Doolittle, a disc that would be well represented throughout the night, much to the fans' delight. Frontman Black Francis and company are workmanlike onstage, not using up any time with banter. The band packed in a whopping 35 songs in roughly an hour and 40 minutes.
The 2016 album Head Carrier was showcased extensively, as well, with songs like "Um Chagga Lagga," "Tenement Song," "Plaster of Paris" and "All I Think About Now" among the nine cuts performed off the disc.
The set showed off the Pixies' highly diverse catalog, with "Nimrod's Son" revealing them at their most chaotic and "Where Is My Mind?" displaying the band at its most melodic. The band is long known for perfecting the quiet-loud dynamics that influenced Nirvana and others, and that was none more evident during performances of songs like "Monkey's Gone to Heaven" and "Tame."
While Kim Deal's absence left a major void in the band when she parted ways with the group in 2013, they've found the missing piece of the puzzle in Paz Lenchantin, whose stellar bass playing and backing vocals have helped kept the Pixies machine chugging along the past couple of years.
The Pixies closed out the main set with the U.K. Surf version of "Wave of Mutilation," which would have bookended the show with different takes on the same song, but after taking their bows, they returned to their instruments for two more of all their all-time classics: "Hey" and the night-closer "Debaser."
Pixies, Capitol Theatre, Port Chester, N.Y., Sept. 27, 2017 Set List
"Wave of Mutilation"
"Um Chagga Lagga"
"Isla de Encanta"
"Tenement Song"
"Baal's Back"
"Mr. Grieves"
"Bone Machine"
"Caribou"
"Something Against You"
"I've Been Tired"
"Subbacultcha"
"Head Carrier"
"Nimrod's Son"
"Broken Face"
"Cactus"
"Talent"
"Classic Masher"
"Monkey Gone to Heaven"
"Dead"
"I'm Amazed"
"Bel Esprit"
"Plaster of Paris"
"Here Comes Your Man"
"Where Is My Mind?"
"Crackity Jones"
"Tame"
"Vamos"
"Silver Snail"
"Rock Music"
"Motorway to Roswell"
"All I Think About Now"
"Winterlong"
"Wave of Mutilation" (UK Surf)
"Hey"
"Debaser"
Pixies Albums Ranked in Order of Awesomeness