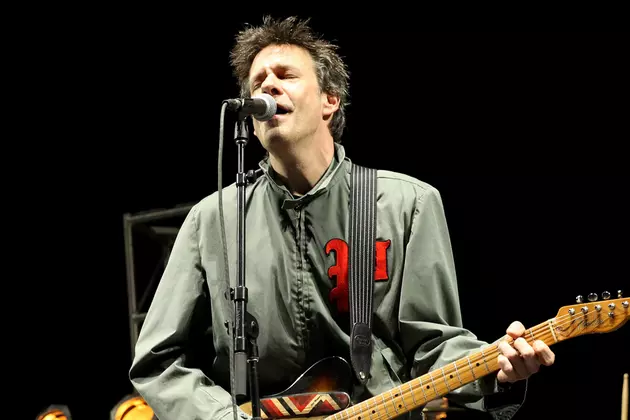 Paul Westerberg Has Been Releasing Music Anonymously
Karl Walter, Getty Images
Paul Westerberg, the former leader of the Replacements, has recently been uploading songs to a Soundcloud page under a nondescript username. His newest entry is "Feelin' Good," which can be streamed below.
Speculation began three weeks ago, when a somewhat experimental track called "Hawk Ripping at Your Throat" by "User 964848511," with no other information, showed up at Soundcloud and on a website called Dry Wood Garage, which is also the name of Westerberg's publishing company. A week later "Got It Made," a charming piece of retro-pop built around vintage synth sounds and a drum machine, appeared – and that sounded a little more like Westerberg.
This past Saturday, the '70s country-bubblegum shuffle of "Feelin' Good" was uploaded, and the artwork on the track tells us that Tim O'Regan of the Jayhawks contributed background vocals and Keely Lane from Ol' Yeller played drums. Furthermore, Dry Wood Garage has a new banner image, of a mousetrap with a microphone attached and a seemingly handwritted "PW."
The Dry Wood Garage songs continue a relatively prolific stretch for Westerberg. Last year, he and Juliana Hatfield released Wild Stab as the I Don't Cares. Westerberg hasn't put out a full-length since 2004's Folker but, between 2008-09, he digitally released a few singles and EPs.
Meanwhile, Rhino is preparing to put out For Sale: Live at Maxwell's 1986, a famous Replacements concert at Hoboken, N.J.'s legendary club. The two-disc, 29-song set arrives Oct. 6 and features liner notes by Bob Mehr, the author of Trouble Boys: The True Story of the Replacements, a definitive biography of the band.
Listen to 'Feelin' Good' by Paul Westerberg
Replacements Albums Ranked in Order of Awesomeness