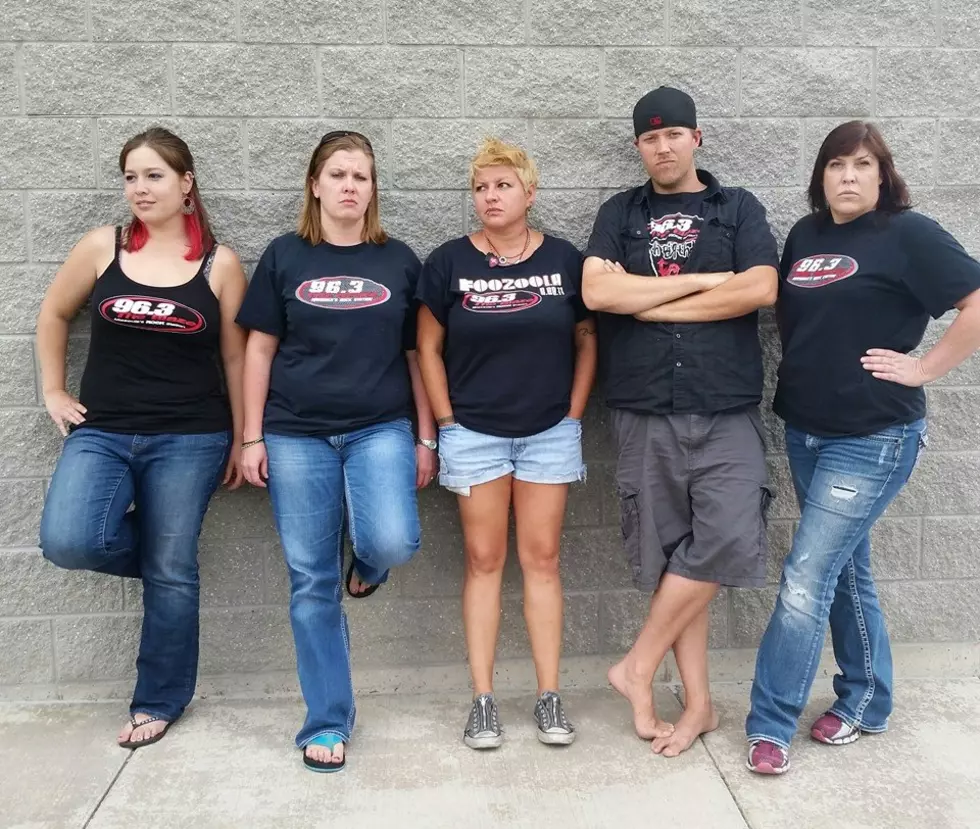 My 20 Year Anniversary on The Blaze
One of my all time favorite Blaze Crew pics. From L to R, JC, Rosie, me, KC, Front Desk Debbie
There's nothing like a grown-ass person telling you they "grew up" listening to you to make you feel old. We joke about it around the office, but honestly, we love hearing it. This Sunday, February 21, officially marks my 20 years on 96.3 The Blaze, as a paid employee anyway. The Blaze came on the air in the spring of 2000 and I left a kick ass job in Portland, Oregon to move home and volunteer. Seems like a bad decision economically, but I think it worked out for me.
You know how a lot of Missoulians make the journey around the Pacific Northwest before missing home so bad that they return? That's what we did. We moved to Spokane in 1997, I went to broadcasting school and worked at Rock 94 1/2 doing the morning show and programming music. My heart is alternative so we moved on to Portland where I worked at the legendary 94.7 KNRK and also this crappy little AM station that carried the Don & Mike Show. I LOVED the Don & Mike show and was a loyal listener, so getting paid to sit in a studio while I listened was a dream gig. Portland was rad because the studios & equipment were beautiful, and there were always big name bands in the building.
In 2000, my Mom called me on our home telephone, you know, the kind with the base on the wall with a cordless receiver that you could carry anywhere around the house. She says listen to this and puts her receiver up to the radio for a few songs and I heard Green Day, Everclear, Limp Bizkit, and The Offspring. She said it was a new station so I rushed right home to get involved. Up to that point, Missoula's choices for radio were country, classic rock, talk, or the college station. So the launch of The Blaze was a HUGE deal for rock fans.
We moved home, I volunteered for 8 months before they could afford to put me on payroll. You'll remember in 2012 I got into it with corporate and left for 8 months before I came back in 2013. So we figure, between the free 8 months and the 8 month "sabbatical" it evens out to 21 years, but officially, it's 20. Either way, half of my lifetime.
In my 20 years in Missoula radio, I've met so many amazing Montanans, met and seen a LOT of bands, worked way too many hours, drank way too many Jager shots, went to rehab, had a baby, won some awards, made big mistakes, learned from mistakes, and launched an alternative station in my hometown. Not in that order. I feel like you and I have grown up together and I've become great friends with many of you, I can't thank you enough for making The Blaze a success, and sticking with me for so many years. When I say "thanks for being here this afternoon," or "thanks for listening" on the air, I truly mean it, I'm grateful for you. And certainly grateful to my dedicated and loyal co-workers, especially KC, and my family for all of the love and support that has been essential to the success of my radio station.
Happy 21st anniversary, Blaze listeners! There will be a 21s Birthday Bash in April, it's not a concert, but it'll be a rager, details coming soon.
XO
Angel (yes, for the record, that's my birth certificate name.)
80s Missoula Concert Ticket Stubs