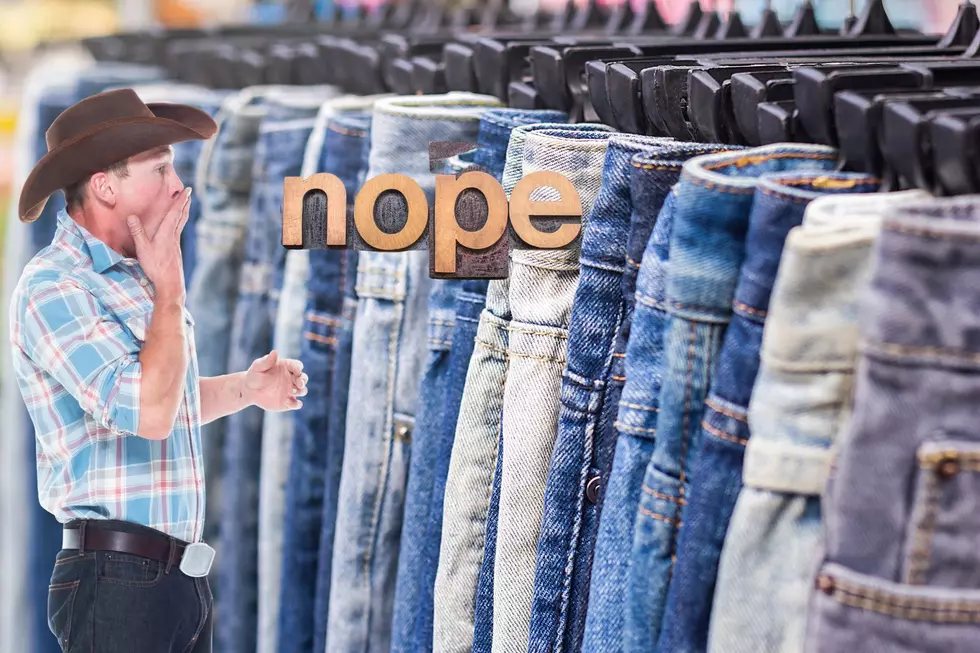 Montanans Wouldn't be Caught Dead in this New Denim Style
Credit: Canva
With each new generation comes a new style of… Jeans.
Montanans love their jean jackets, denim pants, and I've even seen a denim cowboy hat. Although the all-denim look a.k.a. "the Canadian tuxedo" was very popular in the early 2000's it looks like it's making a comeback. Those jeans with the holes in the knees are my go-to, and I call them "My church pants."
Because they're whole-y...get it?? 
But when my colleague Josh Rath showed me "Wet Pants Denim" I about lost my mind.
They're so hideous I can't even believe these are a thing. But is anyone buying them? I still haven't seen them on  an everyday person, but you never know because trends can be wacky. 
I highly doubt we will see a Montanan rock the pee jeans….
Pierce Bronson (above) has been seen wearing them, Justin Bieber, and even Liam Neeson! Notice in that last sentence I didn't say, "rock the jeans." Because I'm sorry, I'm going to say it right now, these jeans are the dumbest thing I've ever seen.
Why would anyone want to look like they've peed their pants. It's not a bragging right whatsoever. I refer back to Ricky Bobby in Talladega Nights when his son says, "And I'm still sittin' in my pee-pants." 😂
But wait it gets better...
The white pants with yellow in the groin area... WHY?! JUST WHY?!
Imagine a cowboy or cowgirl wearing these... they'd be ridiculed all day, every day. I can hear the insults now, "Did you wet yourself, son?"  
"Have one too many beers last night buddy?"
And the "Wet Demin" is expensive.
To look like you just peed yourself, it'll cost you a whopping $80-$90. And the company doesn't offer returns.  I'd rather put that money to literally anything else on this planet before the "wet denim."  But I guess you do you boo. 
Top 10 Stories in 2022 by Nikki Vega on Billings Mix 97.1 FM