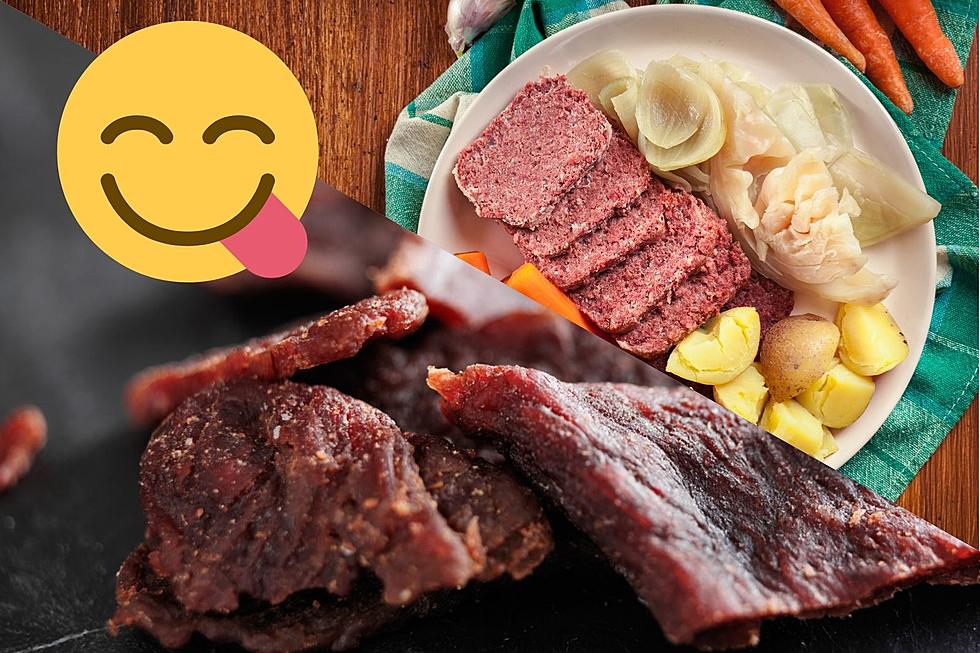 Celebrate St Patty's Day With Montana Style Corned Beef JERKY
Getty Images/Canva
If you had to pick what Montana's favorite snack food is, what would it be? Chances are you picked beef jerky. It has been the "go-to snack" for hungry Montanans for hundreds of years simply because dehydrating and smoking meat was the only way to preserve meat back before we had coolers filled with ice.
According to Jerky.com
The Native Americans taught the settlers how to cut and prepare the meat into long strips and later shared with them the entire jerky-making process and some variations of seasonings to make different recipes. With this newfound knowledge and time-tested recipe, the European pioneers found themselves cooking and consuming jerky more than ever before; it was absolutely the snack of choice.
I recently had the urge to make some jerky. I have already used up all of my wild game harvested from this past fall. So, I am not able to make traditional wild game jerky. So I thought to myself, "how about just making a bunch of beef jerky?" I thought about buying a beef roast on sale and slicing it thin. Then going through the process of seasoning the meat and soaking it in brine. But, knowing that the process would take days, I wanted to resort to something that wouldn't take such a commitment. That is when I stumbled across the idea to make "corned beef jerky."
With plenty of corned beef briskets filling meat departments for the upcoming holiday, it was easy to find the perfect amount to take home. Plus, the meat is already brined and seasoned, so it was nearly ready to smoke.
How to create a smoky corned beef treat
Buy a 3-4 lb corned beef brisket.
Place it in the freezer for an hour, until it begins to get firm.
Trim fat from meat.
Slice into 1/8th inch thick slice. (Try as best you can to make all slices as thick as the rest)
Preheat pellet grill, smoker, or even oven to 170 degrees.
Place meat slices evenly on rack in grill.
Let sit on the grill for 2 hours.
Check pieces periodically to see if they are done. (Jerky should be firm and bend but not break.)
Put jerky in a large plastic storage bag and let sit until cool.
Now you can enjoy St Patty's day "on the go" with corned beef that is a little more forgiving to the Montana way of life.
10 Unmistakable Missoula Smells That Could Be Unique Jelly Bean Flavors
If Missoula had official jelly beans, this is what they'd taste like.
20 Montana Distilleries You Have to Visit
The Montana distillery scene is certainly taking off, and with the access to local ingredients, you can feel good about supporting these establishments all across the state. Here are 20 distilleries that are worth a visit.