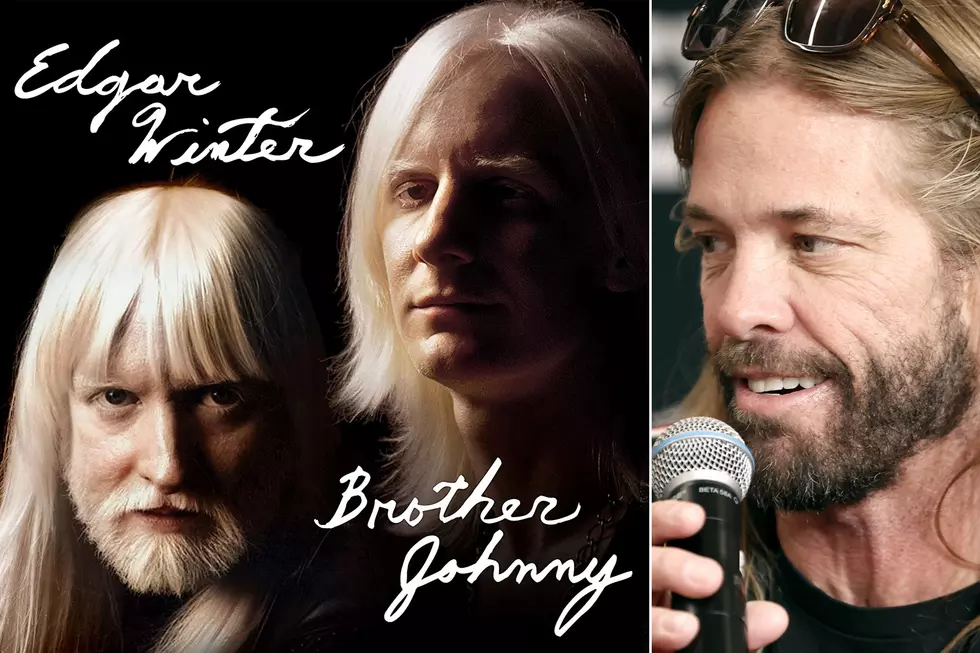 Hear Taylor Hawkins Sing on Edgar Winter's 'Guess I'll Go Away'
Quarto Valley Records / Arturo Holmes, Getty Images
Late Foo Fighters drummer Taylor Hawkins is heard on a cover of the Johnny Winter song "Guess I'll Go Away," which appears on Brother Johnny, Edgar Winter's new tribute album to his sibling.
It's the first music to feature Hawkins since his death last month at the age of 50.
Edgar Winter described the song as "a tribute within a tribute," referring to the fact that, like Hawkins, his brother Johnny was found dead in his hotel room during a tour (in 2014). "It's such an odd happenstance," Edgar told ABC Audio. "I mean, here's a guy that's singing a tribute song to my brother, Johnny, and he sings the song and then … passes away himself. And in similar circumstances. … It's just bizarre and very compelling." You can hear the song below.
He said he was glad he had the opportunity to meet Hawkins and hailed his "energy" and "love of music." "I wanted a more modern approach to the vocal, rather than an old-school blues-style approach, and that was perfect for Taylor," Winter noted. "It's probably one of his last performances, and it means the world to me to have him on the song."
Brother Johnny – which is out today – was assembled over several years and features guest appearances by Joe Walsh, Billy Gibbons, Steve Lukather, Michael McDonald and others. Announcing the project, Edgar Winter said he'd been asked many times to consider making it but struggled with the idea: "My wife Monique, whose intuition I trust more than my own, said, 'I think you have to make this album, both for Johnny, for yourself, and for the world. You owe that acknowledgment to your older brother. If it weren't for him, you wouldn't be where you are today.'"
Top 30 Grunge Albums
From Nirvana and Neil Young to Melvins and Mudhoney — the best works to come from the '90s movement.