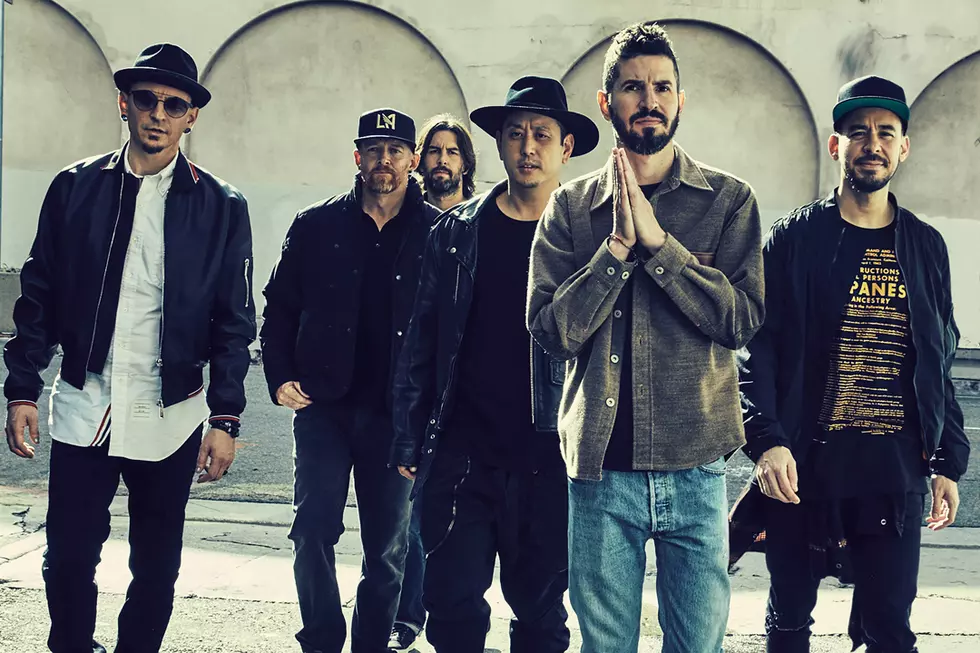 Linkin Park Album + Song Sales Surge Following Chester Bennington's Death
Photo by James Minchin
Since the tragic news of Chester Bennington's death broke on July 20, sales and streams of Linkin Park's music have increased tremendously. Over the weekend, it was reported that four Linkin Park albums returned to the Billboard 200 and streams of Linkin Park's music rose by 730 percent. Additionally, Linkin Park's album and song sales grew by 5,332 percent on the day Chester Bennington died.
As fans still process their grief following Chester Bennington's suicide, it's only natural they take some comfort in Linkin Park's music. The surge of on-demand audio streams has been gigantic, with Linkin Park's catalog growing from 1.5 million plays per day as of July 19 to 12.6 million streams on July 20. "In the End" was Linkin Park's most streamed song with nearly a million plays, followed by "Numb" and "Heavy."
As for albums, Linkin Park's One More Light re-entered the Billboard 200 chart at No. 17, tallying 23,000 equivalent album units with 18,000 traditional album sales logged the week of Bennington's passing. Linkin Park's breakout album, Hybrid Theory, reappeared at No. 27 on the chart, tallying 15,000 copies sold.
2003's Meteora landed at No. 41 on the Billboard 200 with 11,000 units logged, while 2007's Minutes to Midnight hit No. 115 with 6,000 units earned. All four Linkin Park albums also re-entered the Top Rock Albums chart, hitting positions 3, 5, 6 and 27, respectively.
See Billboard's official list of Linkin Park's Top 10 streamed songs on July 20 below:
Linkin Park's Top 10 Streamed Songs (July 20)
"In the End," 923,000 on-demand audio streams
"Numb," 740,000
"Heavy" featuring Kiiara, 684,000
"One Step Closer," 480,000
"Crawling," 439,000
"What I've Done," 420,000
"Papercut," 412,000
"Somewhere I Belong," 394,000
"Numb/Encore," JAY-Z/Linkin Park, 356,000
"Bleed It Out," 350,000
Rockers We've Lost in 2017
10 Unforgettable Chester Bennington Moments