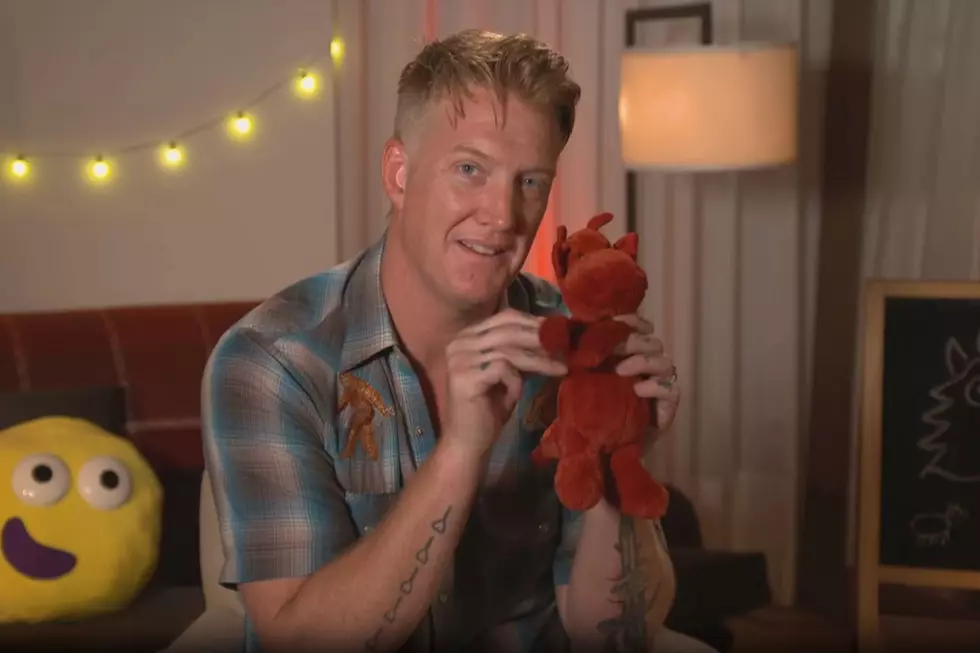 Watch Josh Homme Tell a Bedtime Story About a Dragon
YouTube Screengrab
Queens of the Stone Age's frontman Josh Homme is a man of many talents, spreading his music throughout different genres and bands. In a new endeavor, he's also shown himself to be an excellent storyteller for all ages! Homme appeared in a recent BBC video for their CBeebies Bedtime Stories series to tell a very sweet story.
For his bedtime story, Josh (or Joshua as he introduces himself) tells a story about a dragon named Zog who wants to become the best dragon he can be. And, he tells the bedtime story straight, about this dragon who clumsily hurt himself repeatedly, and is helped out by a nice young girl who's always there to patch him up. There's a lot of ins and outs to this story -- a lot of real personal drama going on. It's a very sweet story, and Homme does his best dragon voices to keep the kids entertained.
For the grownup fans of Queens of the Stone Age, the band has been very active these past couple of months since the release of their new album Villains. The record landed at No. 3 on the Billboard 200, scoring the most traditional album sales of that week. As part of the record's release, the group is enjoying a long tour, including a recent appearance at Cal Jam '17. They played a killer festival where they joined Foo Fighters, Cage the Elephant, Royal Blood and more for a good time.
If you're still hungry for Homme being a goofball, a couple of months ago the band released a hilarious video surrounding their discography. The band hired a "researcher" to "focus test" Villains, where Homme voiced each album in the band's discography as they became talking versions of themselves in a goofy scene.
Watch CBeebies Bedtime Stories starring Josh Homme above!
Queens of the Stone Age Albums Ranked
See QOTSA's Josh Homme in 11 Rockers Kicking Fans Off the Stage
Loudwire Music Awards Tickets Available Now!