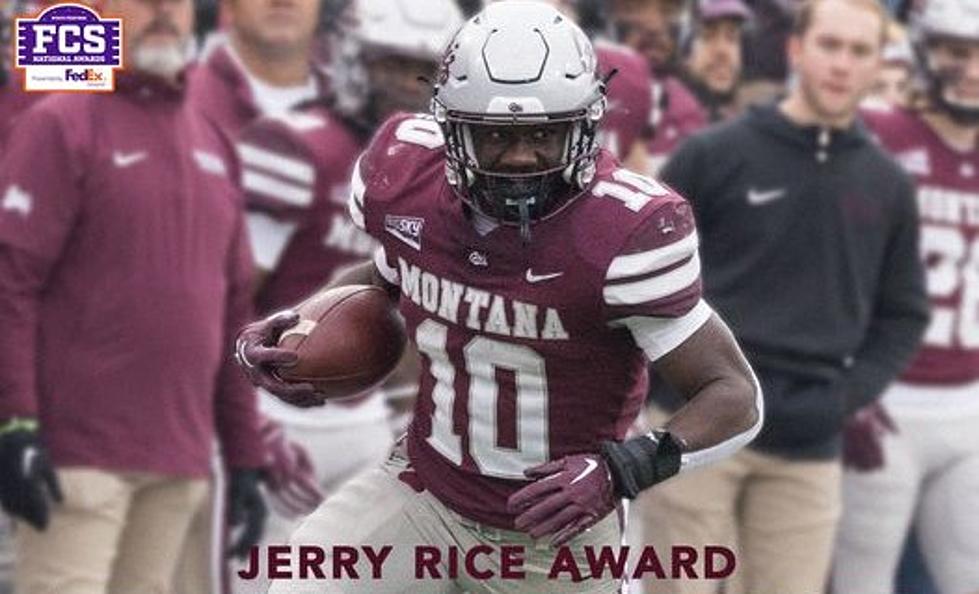 UM Grizzly Football Star Now a Finalist for Freshman of the Year
Image courtesy of U of Montana Sports Information
No doubt, there are plenty of talented, qualified finalists for the award.
But (and yes, it's tough to not be biased), when you start comparing the numbers and overall quality of the competition, it's going to be a tough out for our guy. His resume boasts a strong, consistent body of work over the 11-game season.
University of Montana Sports Information Director Eric Taber tells that today (Monday), Montana running back Eli Gillman has been named a finalist for the 2023 Jerry Rice Award honoring the national freshman player of the year in Football Championship Subdivision (FCS) football. The Media outlet Stats Perform announced Gilman's inclusion as one of 22 finalists, moving up from the Watch List.
With 857 yards on the season, Eli has run for more total yards than any other freshman in FCS football and the third-most in all of Division I football. That accomplishments includes games vs. four teams ranked in the final Top 25 poll and a fifth team receiving votes in the poll.
He's also second among all players in the Big Sky Conference in rushing yards per game, averaging just under 78 per contest and is 8th in the conference in all-purpose yards with 103 receiving yards to go along with his 10 touchdowns.
To be fair, the award isn't for the best running back only. There are some pretty impressive numbers among the receivers and quarterbacks nominated, too. And, yes, one MSU Bobcat on the O line. But Griz #10 still emerges as hard to vote against.
THE FINALISTS ON OFFENSE
>MJ Flowers, Eastern Illinois, RB, 6-1, 195 (Big South-OVC Football Association) 157 carries, 854 yards (5.4 ypc), 8 TDs; 35 receptions, 192 yards (11 games).
>Malachi Hosley, Penn, RB, 5-10, 185 (Ivy League) 121 carries, 723 yards (6.0 ypc), 7 TDs; 22 receptions, 246 yards, 1 TD (9 games).
>Jawarn Howell, South Carolina State, RB, 6-1, 215 (Mid-Eastern Athletic Conference) 102 carries, 809 yards (7.9 ypc), 7 TDs; 10 receptions, 149 yards, 2 TDs (9 games).
>Brendan Jenkins, Samford, WR, 6-1, 200 (Southern Conference) 41 receptions, 312 yards, (7.6 ypc) 4 TDs (11 games).
>Anthony Johnson, Stony Brook, WR, 5-11, 190 (CAA Football) 59 receptions, 714 yards (12.1 ypc), 3 TDs (10 games).
>Jaylen King, Gardner-Webb, QB, 6-4, 200 (Big South-OVC Football Association) 86 of 163 (52.8%), 992 yards, 10 TDs, 5 INTs, 118.0 pass efficiency; 392 rush yards, 5 TDs (8 games)
>Gavin Lochow, Dayton, WR, 6-0, 195 (Pioneer Football League) 35 receptions, 402 yards (11.5 ypc), 5 TDs; 17 kickoff returns, 412 yards (11 games).
>Connor Moore, Montana State, LT, 6-5, 306 (Big Sky Conference) Starting left tackle for offense that has averaged 40.5 points and 293.7 rushing yards per game (11 games).
>Dom Nankil, San Diego, QB, 6-0, 180 (Pioneer Football League) 109 of 186 (58.6%), 1,158 yards, 5 TDs, 4 INTs, 115.5 pass efficiency; 1 rush TD (8 games).
>Beau Sparks, Utah Tech, WR, 5-11, 180 (United Athletic Conference) 74 receptions, 723 yards (9.8 ypc), 7 TDs (11 games).
>VJ Wilkins, Campbell, WR, 5-10, 160 (CAA Football) 52 receptions, 546 yards (10.5 ypc), 4 TDs; 588 kickoff return yards (11 games).
>Ty'Jarian Williams, Mississippi Valley State, QB, 6-3, 240 (Southwestern Athletic Conference) 123 of 199 (61.8%), 1,197 yards, 6 TDs, 6 INTs, 116.3 pass efficiency; 2 rush TDs (10 games).
>Griffin Woodell, UAlbany, RB, 5-10, 194 (CAA Football) 143 carries, 694 yards (4.9 ypc), 6 TDs; 24 receptions, 231 yards, 4 TDs (12 games).
>Luke Yoder, Lehigh, RB, 5-11, 195 (Patriot League) 135 carries, 644 yards (4.8 ypc), 13 receptions, 87 yards (9 games).
The list also includes four defensive and two special teams players. The Rice Award, now in its 13th season, is named after legendary wide receiver Jerry Rice, who played his college football at Mississippi Valley State.
The winner will be announced on December 6, and honored at the FCS National Awards Banquet on January 6 in Frisco, Texas – the night before the FCS championship game.
Is destiny calling Eli? Best of luck to this extremely talented and humble Griz!
Montana "Yellowstone" Food Products You Can Buy
Gallery Credit: KC
These are the Top 8 Cheapest Towns To Live In, In Montana
Have you been contemplating moving to Montana? Maybe you already live here and the town has gotten so expensive you are having to relocate by no fault of your own. The good news, you can stay in Montana by moving to one of the cheapest towns in Montana.
Gallery Credit: megan shaul