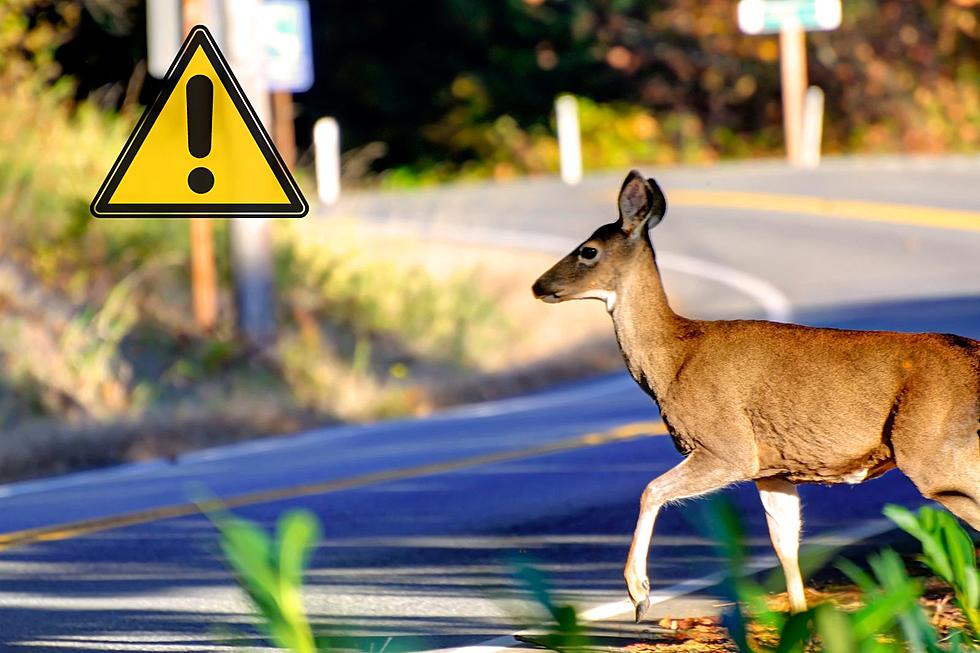 Look Out! Missoula Streets Where You Are Most Likely To Hit a Deer
Credit: Canva Pro
Missoula has urban deer and the population of the deer seems to be growing bigger every year. There are a lot of deer in my neighborhood. My neighbors continue to try to do whatever they can to stop them from getting into their yards. They have built higher fences, put reflective tape on their fences, a lot my neighbors have dogs that help prevent the deer from spending time in their yards.
Missoula Driving is Difficult Enough Without Wildlife Thrown Into the Mix
Driving around Missoula is difficult enough with our frustrating intersections, our streets that cause frustration, and our distracted drivers. Adding in the possibility of hitting a deer makes it that much more dangerous.
Related: Complain About Urban Deer? You're Going to Have A Bad Time
Driving to work in the mornings, for me, isn't always easy. Ten months out of the year, I am driving in the dark. The good part of my commute for me is the lack of other drivers early in the morning. The bad part of my commute is the many urban deer that populate my route.
Which Missoula Street Are you Most Likely to Hit a Deer On?
Which Missoula streets are you most likely to hit a deer with your  vehicle. We asked our listeners about streets with high deer populations. For once Reserve street wasn't the most popular answer, even though it was mentioned.
Koby- Reserve by 7th had to swerve because of a buck crossing
Ashley- Reserve! They think about jumping in front of me every morning
Tammy- Reserve. By the cornfields. I'll never forget the monster buck I saw two guys throwing in the back of a truck there.
Donna- How about deer hitting you on Reserve.
Reserve Street Makes the List Again
There are a lot of deer off of Reserve Street on Mullan Road.
KatieandRich- Mullan Road
Lisa- Mullan Rd.
Tara- Mullan Rd or 39th
Dustin- Rattlesnake or Mullan
This Area By Far Has the Most Urban Deer in Missoula According to Listeners
There is one area that by far was mentioned the most as an area where the chances of hitting a deer with your car are greater than other areas, in Missoula. That is the Southside of town. Upper and Lower Miller Creek Roads, Gharrett Street all got mentions. But two streets got the most mentions, and they are connected, specifically South Higgins and 39th.
Randiea- 39th
Carl- 39th so many close calls
Christopher- 39th for sure
Carl- 39th between Russell and Higgins
Matt- 39th & Higgins
Tara- 39th been there done that
Leslie- 39th
Raelyn- 39th street
Max- 39th from Pattee Canyon entrance to Walmart
Pat- 39th
Anthony- Hit 2 on 39th
Rose- 39th
Ally- 39th or Gharrett
Rock- 39rh for the win!
Ray- S.W. Higgins
Tim- 39th
Kayla - 39th
Cassie- 39th
Jeffery- Another vote for 39th
Nate- The street exactly parallel to the street with the number 38
Be Careful Driving Anywhere in Montana
Outside of Missoula there is a good chance of hitting a deer too.
Vicki- HWY 93, headed west after Orange exit, must have a 30 day temporary sticker on your truck. Deer prefer a truck right off the car lot no more than 12 days old, better chance of flattening exhaust, which causes excessive back pressure, this makes the #8 valve stick and your engine sounds like a gerbil going up and over passes the cheapest part is pulling the hoof print out of the tailgate.
Nick- 15 miles before Kalispell coming from Missoula. Happened yesterday.
Of course not all wrecks are caused by deer, but some people may still blame the deer.
Debbie- Saw this deer on Catlin.
Rachel- Higgins. When I was in college, my friend wiped out a curb in my car on the first snow. I wasn't supposed to let other people drive my car. I told my mom I hit a deer on Higgins. I did not. Sorry, mom, if you follow the Blaze and see this.
Be Safe on Our Missoula Streets
The urban deer population in Missoula isn't going to go away anytime soon. The days are getting shorter and that could mean more of a chance of hitting a deer. Please be safe on Missoula's streets and keep your eyes open for the deer.
LOOK: Here are the states where you are most likely to hit an animal
Hitting an animal while driving is a frightening experience, and this list ranks all 50 states in order of the likelihood of such incidents happening, in addition to providing tips on how to avoid them.