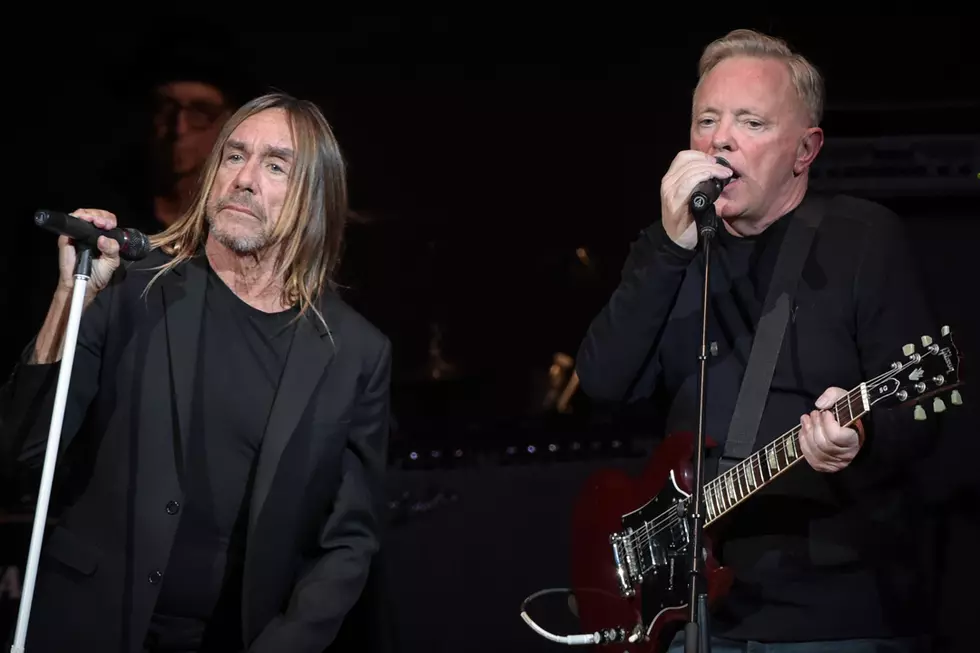 Watch Iggy Pop and New Order's Bernard Sumner Perform Joy Division's 'She's Lost Control'
Jason Kempin, Getty Images
Last night, at New York's Carnegie Hall, a celebration was thrown to mark both the 80th birthday of composer Philip Glass and the 30th anniversary of Tibet House US, for whom the evening was a benefit. One of the highlights was when Iggy Pop joined New Order's Bernard Sumner to sing Joy Division's "She's Lost Control."
NME found the fan-shot videos embedded below, adding that they also performed "Stray Dog," a song from New Order's most recent studio effort, Music Complete, on which Pop sang, and Pop's "Shades," which appeared on his Blah Blah Blah. Pop not only dressed up for the occasion, he dressed, wearing both a black t-shirt and a jacket. As you can see in the first clip, he eschewed a few requests to "take it off," although he did throw a stool.
In addition to Pop and Sumner, the evening featured performances by Sufjan Stevens and Alabama Shakes, and was closed out by Patti Smith leading all the evening's musicians and the audience in "People Have the Power." She also led out several Tibetan monks onto the stage.
Founded in 1987, Tibet House US is, according to its website, "dedicated to preserving Tibet's unique culture at a time when it is confronted with extinction on its own soil." They hope to inspire others to protect and save it by "presenting Tibetan civilization and its profound wisdom, beauty, and special art of freedom to the people of the world." It was created at the request of the Dalai Lama.
New Order Albums Ranked in Order of Awesomeness