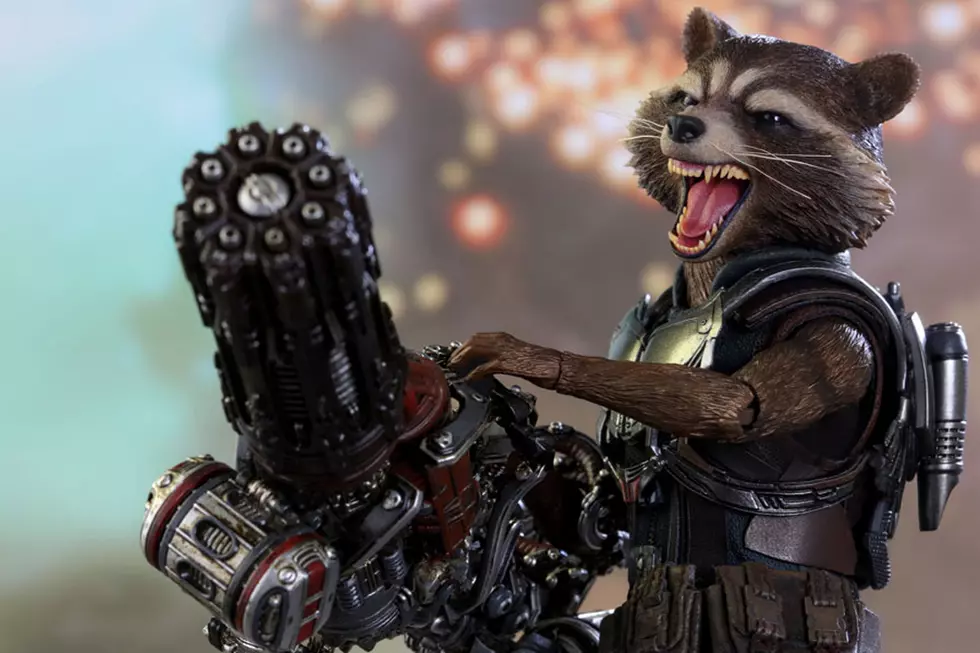 Hot Toys' 'Guardians of the Galaxy, Vol 2′ Rocket Brings a Big Smile and an Even Bigger Gun
Hot Toys
If you've seen the first Guardians of the Galaxy film, you know Rocket Raccoon has a thing for big attitude, big guns and even bigger explosions. The little guy just likes to make things go boom and yell loudly about it. When you're as good at it as Rocket is, it's not hard to understand why. Judging by the few teasers and trailers we've seen for Guardians of the Galaxy, Vol. 2, Rocket's taking things to a new level when it comes to the carnage he can create and celebrate.
Now thanks to Hot Toys, we know for sure Rocket won't be speaking softly, and he definitely will be carrying a big heckin' gun.
Two different versions of Rocket Raccoon are coming from Hot Toys to tie into Guardians 2, with the deluxe edition coming with a massive blaster that's easily as big as Rocket is himself. The standard edition won't feature the "BFG," but it'll still come with a few different blaster pistols for Rocket to extract his unique brand of galactic justice.
Guns are one thing, but you can't quite be part of a dynamic duo like Rocket and Groot without both parties. That's why both editions of Rocket will come with a little Baby Groot in Ravager gear to complete the set. You can't quite see him in full as the Groot figure is still in development, but we at least know he will be part of the ~$200 figure no matter which edition you choose.
The only other difference between the two sets is the deluxe version included a second portrait that has a smirking sculpt. The screaming head is the default, and I happen to like that one better, but you can't complain too much about having more options for posing. The dynamic posing stand included with both editions should give you plenty of ways to get creative with Rocket, too. At least that way, he'll actually be as tall as the rest of the figures in the line. He'll also look stylish as hell when set up alongside whatever other 1/6 scale figures you might already have.
Both the standard and deluxe editions of the Hot Toys Guardians of the Galaxy, Vol 2 Rocket Raccoon figure are available for pre-order now from Sideshow Collectibles for $197.99 and $227.99 respectively. They are each due to arrive in Q1 2018.