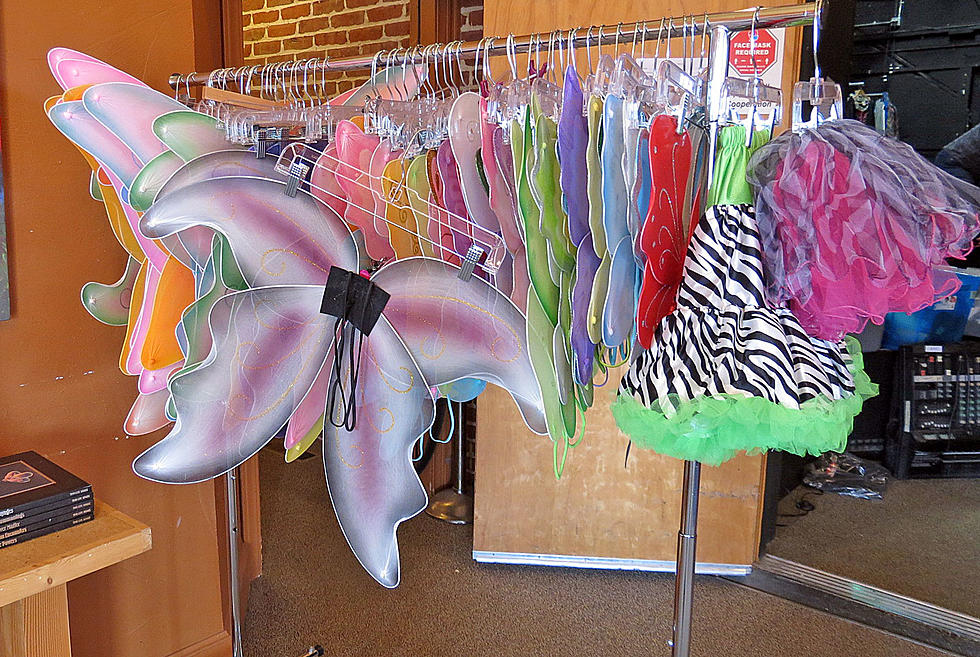 From Stunning to Simple – Vintage Costumes Cheap!
Need some wings for a Halloween flight? (Steve Fullerton, Townsquare Media)
Again this year, the least expensive way to get some unusual costumes for any holiday - but especially Halloween - is the Hamilton Playhouse's Costume and Vintage Sale. The local theater group spent the first few weeks of the COVID-19 pandemic going through their vast collection of costumes, gowns, hats and accessories, keeping quite a few but culling many more. And they have now made them available for sale.
The sale actually started a week ago, but it's only been one day a week - Fridays from 1 p.m. to 6 p.m. at the Hamilton Playhouse. Yet to come are sale days October 8 and October 15 (and maybe October 22). The theater is at 100 Ricketts Road, west of Hamilton. The stage is full of gowns, wraps and hats (photo below). The colorful wings (photo above) are in the lobby area and there are a LOT of them. Clip on a set of wings and fly away...in your mind.
The prices are so incredibly low we're not mentioning them here. You've got to go to the theater and see for yourself. There are more dresses and gowns than anything else, but the variety of hats is amazing. And, of course, there's those odds and ends that the theater can't use anymore - like the old sound board that handled all the audio details like microphones and recordings. It was replaced with an even better system. You can buy it at the sale.
[brandedappromo]
The money will go toward keeping the Hamilton Players alive. They've only had two shows this year, and one more is planned in November - a concert fundraiser with some great tunes. The playhouse has a mask policy, so bring one along when you come to the Costume/Vintage sale. Director denise rose said that mask wearing and social distancing protocols will be followed at the playhouse functions. There's a detailed info page on the Hamilton Players website for those who are buying tickets.
10 Actors Who Demanded Script Changes (And Got Them)
The Sexiest Period Dramas to Stream at Home
Loved Bridgerton? Here's what to watch next.