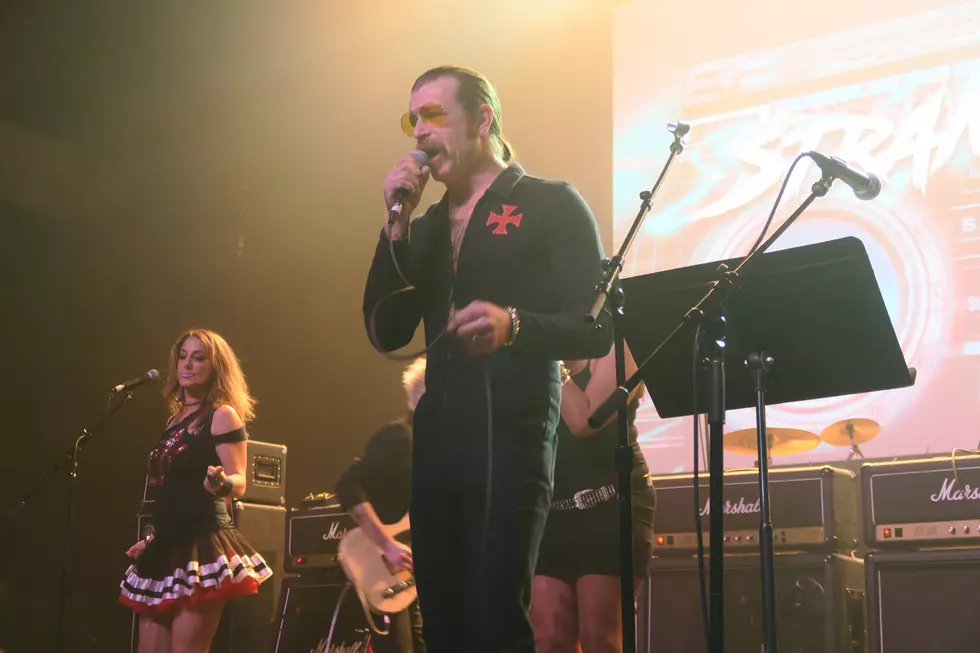 Eagles of Death Metal Covers Set Helped Jesse Hughes Through Post Terrorist Attack Depression
Chad Childers, Loudwire
Earlier this year, Eagles of Death Metal announced a new covers set, Eagles of Death Metal Presents Boots Electric Performing the Best Songs We Never Wrote. That's a one major mouthful of a title, but essentially a way to signify that it was a little more of a personal collection for frontman Jesse "Boots Electric" Hughes. While speaking with Hughes at this past weekend's Strange '80s 3D benefit, the vocalist opened up on exactly how personal this collection was.
"Really the collection of covers is the group of songs I chose to get me out of the depression after I went through Paris," explained Hughes, referring to 2015 terrorist attack at one of the band's shows. The singer added that while he and Josh Homme are working on a new Eagles record of original material, this was something that needed to happen.
"Josh and I are making a new record, but this was something that he knew that I needed to do. It's mostly for me, and sometimes he'll take one for the team," said Hughes. The vocalist went on to credit his frequent Eagles of Death Metal cohort, stating, "He's the best friend you could ever ask for and he's my brother. I love the man with my whole heart."
Speaking about his covers set, Hughes expressed his love for George Michael's "Careless Whisper," stating, "I love that song and that song sums up an emotion. It sums up the feeling of what happens when you fuck up with someone and you know that you can't take it back. You're sorry, and that doesn't matter. It also demonstrates to me that it doesn't matter how you play a song — a good song is a good song."
He went on to add, "I love Mary J. Blige, and ['Family Affair'] has such a great message. Let's just suck it up and all get along ... and 'Trouble' by Cat Stevens. That's my go-to song. Sometimes songs have been written and you may not need to write them and 'Trouble' I feel was written so that I could get the feeling that I had after Paris out. It's difficult not be filled with emotion sometimes, but that's not a bad thing and I don't think that a day goes by that I'm not still filled with a sense of emotion, because I'm still here, I'm still breathing and it's a beautiful thing." The album also features covers of familiar tracks from AC/DC, Guns N' Roses, KISS, the Ramones, Love and Rockets, Steve Miller Band, Kenny Rogers and the First Edition and more.
Hughes also had high praise for the Strange '80s benefits, performing at each of the last two concerts while helping to put a spotlight on mental health awareness. "These two Strange '80s shows, I've needed these because I'm around people who care. Maybe that's most of it is surrounding yourself with people who care," said the singer, who performed covers of David Bowie's "Blue Jean" and Peter Gabriel's "Sledgehammer" at the event, before joining the collective sing-along of Beastie Boys' "Fight for Your Right" later in the evening.
As for that next Eagles of Death Metal album, the singer gave the timeline of it arriving "probably in the next few months," then once again weighing in on the camaraderie shown by Homme welcoming himself and fellow musicians. "He insists on it. You check your ego at the door and we just let the music tell us what to do and if everyone does that, it all works out. If everyone is just focused on being the best friend they can be or the strongest link, then the chain takes care of itself," says Hughes.
The Eagles of Death Metal Presents Boots Electric Performing the Best Songs We Never Wrote covers album arrives this Friday (June 7) worldwide and can be pre-ordered here. Meanwhile, Eagles of Death Metal will take a break from the studio for two weeks of European dates starting this weekend. See all their stops here.
10 Non-Heavy Cover Songs Covered by Heavy Metal Bands