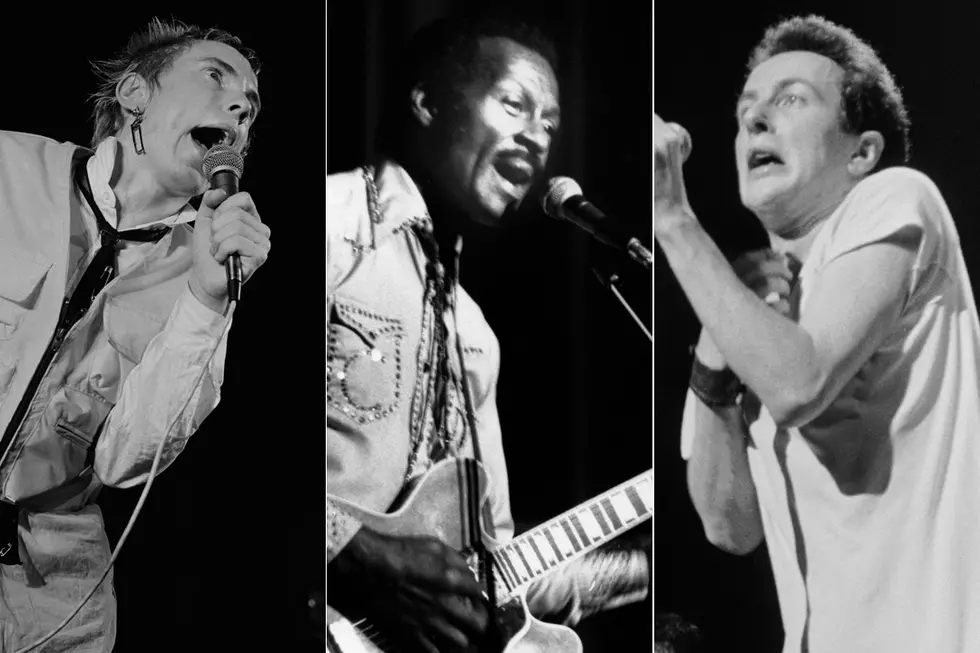 That Time Chuck Berry Reviewed Punk Records by the Sex Pistols, the Clash and Talking Heads
Hulton Archive (3), Getty Images
Early rock 'n' roll and punk had more in common than many people on either side (apart from the Ramones) were often willing to acknowledge. But Chuck Berry, who passed away last night at the age of 90, had an open mind when a fanzine writer played him songs by punk and new wave acts, including the Clash, the Sex Pistols and Talking Heads.
Dangerous Minds found an interview with Berry in a 1980 issue of Jet Lag that included an opportunity for Berry to weigh in on the newer sounds of the day. Not surprisingly, the more it veered away from the three-chord R&B that was his trademark, the less interested he got. And he didn't think much of it sounded new, finding a parallel between he and his friends.
Of the Sex Pistols' "God Save the Queen," he said, "What's this guy so angry about anyway? Guitar work and progression is like mine. Good backbeat. Can't understand most of the vocals. If you're going to be mad at least let the people know what you're mad about."
The Clash's "Complete Control" didn't fare much better. "Sounds like the first one," he said. "The rhythm and chording work well together. Did this guy have a sore throat when he sang the vocals?"
Appreciating the music, but not the vocals, was a bit of theme, with Talking Heads' "Psycho Killer" being described as "A funky little number, that's for sure. I like the bass a lot. Good mixture and a real good flow. The singer sounds like he has a bad case of stage fright."
The poppier side of new wave was also met with a degree of ambivalence. Played a trio of The Romantics' "What I Like About You," "Cherie" by "20/20" and "Different Kind of Girl" by the Beat, he said, "Finally something you can dance to. Sounds a lot like the '60s with some of my riffs thrown in for good measure. You say this is new? I've heard this stuff plenty of times. I can't understand the big fuss."
He had little use for the artier side of punk, dismissing Wire's "I Am the Fly" and Joy Division's Unknown Pleasures with, "So this is the so-called new stuff? It's nothing I ain't heard before. It sounds like an old blues jam that B.B. [King] and Muddy [Waters] would carry on backstage at the old amphitheatre in Chicago. The instruments may be different but the experiment's the same."
But he enjoyed the sounds that some of those who were clearly indebted to him were making, calling "Sheena is a Punk Rocker" by the Ramones, A good little jump number. These guys remind me of myself when I first started, I only knew three chords too." And he heaped praise upon Dave Edmunds' "Queen of Hearts," which Juice Newton would have a hit with a year later. "This is more like it. This guy's got a real touch for rock and roll, a real gut feeling. Has he ever made it big? Well, if he ever needs a job I could use him."
Finally, Berry gravitated most to the three reggae and ska tunes that he heard, "Sweet So Till" by the Gladiators, "Funky Kingston" by Toots and the Maytalls and "On My Radio" by the Selecter. "This is good, real smooth and soulful," he continued. "Real good to bump and shuffle to. Sounds a bit like my old buddy Bo Diddley, only a little slower. I tried something similar once on a song called 'Havana Moon.'"
Rocker Deaths: Artists We Lost in 2017