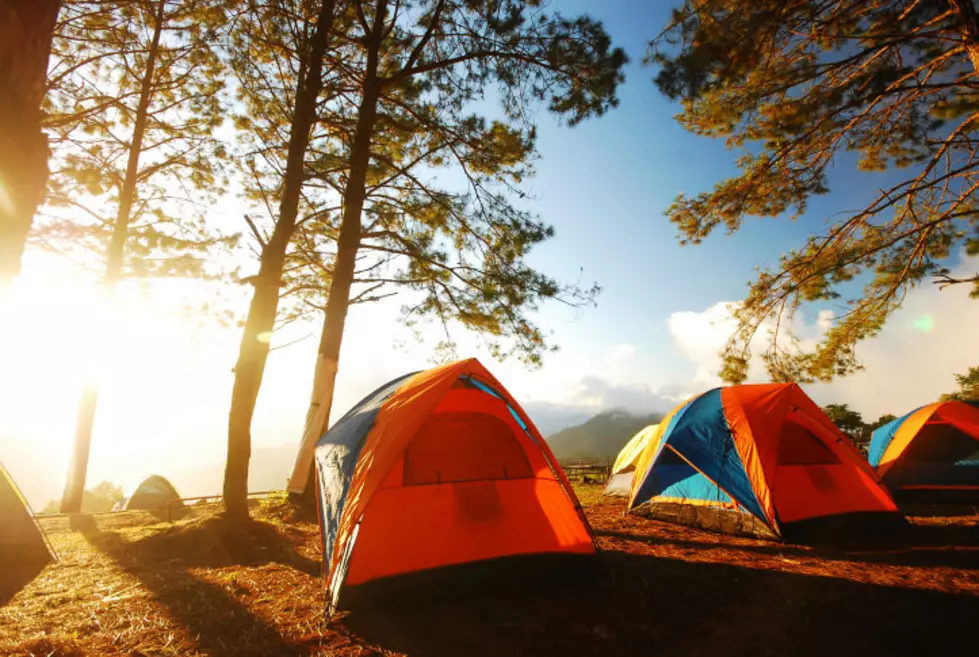 17 Important Rules For Backcountry Camping Success In Yellowstone National Park
Credit Getty/Thinkstock
It's not just about having a knack for choosing less busy days in Yellowstone National Park. There are rules involved and permits to get if you'd like to do some camping in the first national park for all to enjoy.
The good news is that the rules and best practices are very clear, but we combed through the most important sites to pick out the CRUCIAL tidbits you need to know. These aren't ALL the rules or regulations, but they're the crucial ones. Consider this a solid starter list if you've never been camping in Yellowstone.
In our experience, the BEST advice and guidance comes from those folks with frequent, hands-on camping days under their belt. If you know a local expert, always pick their brain for real-time details. They'll know stuff about conditions that websites can't possibly know.
PEAK SEASON IN YELLOWSTONE (by permit date) IS MAY 15th THROUGH OCTOBER 31st
NON-PEAK SEASON IN YELLOWSTONE (by permit date) IS NOVEMBER 1st THROUGH MAY 14th
A permit is required all year long for backcountry camping in Yellowstone. It does not matter the dates of your trip, peak or non-peak season. A permit is required in advance. Check Yellowstone camping permit availability here.
Nightly fees range from $20 to $99. Prices depend on location, services, etc. Taxes may be added for certain camping sites booked through Yellowstone National Park Lodges.
Fishing season begins May 27, 2023 and extends through October 31, 2023.
Webcams across Yellowstone Park can be helpful to determine current conditions and traffic levels.
Yellowstone National Park offers 12 campgrounds with over 2,000 established campsites. All campsites must be reserved in advance, with the exception of Mammoth Campground which offers first-come, first-served sites from October 15th - April 1st.

Most campsites are reserved far in advance, so it is recommended that you make reservations as early as you can. All dates are subject to change.
There are entrance fees for Yellowstone National Park. These are in addition to what you spend on your camping permit(s). Pro Tip: If you live anywhere near the Park, it's just easier and a better deal to buy a Yellowstone Park Annual Pass for $70.
You'll need to know WHERE you're going. The permitting process requires you to choose a camping location within Yellowstone: Blacktail/Hellroaring, Gallatin/Northwest, Slough/Pebble, Lamar, Canyon, Thorofare/Two Ocean, Yellowstone Lake, Snake River/Heart Lake, Bechler/Southwest, Shoshone Lake, Old Faithful, Out of Park, Winter Backcountry Zone, Winter Road Corridor.
The permit process is for specific, designated campsites. There's no willy-nilly, wander-around-until-you-find-a-place-you-like sort of camping these days. Also, campsites have limits on group sizes, length of stay, and method of transportation. (You could spend weeks investigating camping locations, but the Yellowstone camping permit availability tool is extremely helpful.
Planning ahead and permit timing is crucial. It's no secret that camping in Yellowstone is wildly popular. Depending on when you'd like to camp, you'll need to follow some application windows. For instance, according to Recreation.gov: "The application period for the early access lottery is March 1 - 20. To apply, you will submit your basic contact information, not a trip itinerary. You will be notified of the results of the lottery around March 25."
Can large groups camps in Yellowstone National Park? Yes. But of course, there are permitting hoops you'll need to jump through. "Large groups needing multiple campsites each night will need to submit separate applications with unique trip leaders."
IMPORTANT NOTE PER YELLOWSTONE NATIONAL PARK LODGES: "Currently, there is no scheduled reopening date, but NPS has confirmed that the Mammoth Hotel will not open before Friday, June 16, 2023." See Mammoth Hotel reopening details and updates here...
Hiking Trail Etiquette: Dos and Don'ts
We have countless, wonderful hiking and walking trails within easy reach of town. But being a Montanan means caring for your surroundings, AND others. Keep in mind these trail basics while enjoying the outdoors. Safe hikers are happy hikers!